Sep. 06, 2022
Recently, our company and Shanxi Road and Bridge Construction Group Co., Ltd. (hereinafter referred to as Shanxi Road and Bridge Group) have successfully signed 6 sets of Kangming period generator sets, including 1 set of 90KW generator sets, 1 set of 250KW generator sets, 2 sets of 300KW generator sets, and 2 sets of 1000KW 10KV high-voltage diesel generator sets, with a total value of more than three million yuan. These generators are used for backup power supply of Changlin high-speed electromechanical engineering project.
Shanxi Road and Bridge Group is a large-scale state-owned enterprise invested and established by the Shanxi Provincial People's Government, integrating engineering construction, technical consultation, material supply, survey and design, scientific research, and engineering supervision. The capital is 7 billion yuan, and the total assets are 69 billion yuan. Since the establishment of Luqiao Group Corporation, it has achieved considerable development through the training of high-grade highway construction inside and outside the province. Now we have more than 9,000 sets (pieces) of advanced construction machinery and equipment for bridges, tunnels, roadbeds, pavements, housing construction, etc. from Germany, Italy, the United States, Japan, Sweden, etc., which can fully meet the needs of modern construction.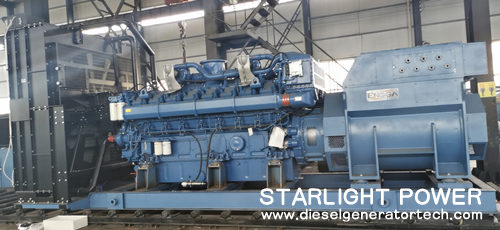 It is understood that Shanxi Road and Bridge Group has purchased more than 20 units from our company in recent years. If there is any problem during the use of the product, our company's after-sales technicians can provide on-site service as soon as possible to ensure the timely operation of the equipment. Starlight Power and Shanxi Road and Bridge Group have established a good and stable cooperative relationship in the course of many years of cooperation. Thank you Shanxi Luqiao Group for continuing to choose Starlight Power as the procurement supplier for this Changlin high-speed mechanical and electrical engineering diesel generator set procurement project! Thank you Shanxi Luqiao Group for its support and trust in Starlight Power Company over the years!
Over the past 46 years, Jiangsu Starlight Electricity Equipment Co., Ltd. has relied on high-quality products, good service and the care of friends from all walks of life, carried forward the spirit of pragmatic innovation, pioneering and enterprising, united and hard work, and dare to be the first, adhered to treat people with sincerity and exchange hearts with hearts, conscientious work policy, has won strong support from various industries such as transportation, real estate, post and telecommunications, finance, petrochemical, metallurgy, etc., and has a proud performance. In the future, Starlight Power will continue to work hard to fully integrate the resource advantages of all aspects, move to a new height, and provide the most satisfactory products and services for thousands of users. For more details, please contact us by email sales@dieselgeneratortech.com.