Jul. 21, 2022
In consumer places such as hotels or restaurants, once the power outage will lead to direct closure, the operators will suffer losses. In order for business to thrive, the industry needs to ensure that there is always power available to keep all systems running, but also to be open for business. Equipped with diesel generator sets will solve power outages caused by various uncertain factors. So what factors should a hotel or restaurant consider when choosing a backup diesel generator? Jiangsu Starlight Electricity Equipments Co.,Ltd. will reveal the secret for you.

Cost.
When you buy a backup diesel generator, you need to consider the initial cost of the generator. When looking at costs, you also need to include installation costs, as backup power should be installed in the hotel's electrical system. A diesel generator with a diesel feature, you need to make sure that the hotel can afford the cost of fuel in your hotel when you need it to run the generator. If your hotel is in an area with frequent power outages, you will spend more on fuel. Diesel generators, like any other electrical appliance or device, require maintenance and repairs. A diesel generator may not require a lot of repair and maintenance, but you still need to make sure it runs efficiently.
Safety.
Diesel generators are less explosive and safer than natural gas generators due to their natural state and smell. It's also not toxic because the fumes you inhale from the generator are safe. It helps if you consider your safety before buying a generator so that you have a safer facility in your hotel.
Noise.
High noise generators can disturb and make hotel guests uncomfortable. A suitable generator should have low noise, especially if you have a small restaurant. In larger hotels, you can place the generator away from rooms and restaurants so that the noise is not too loud for your guests.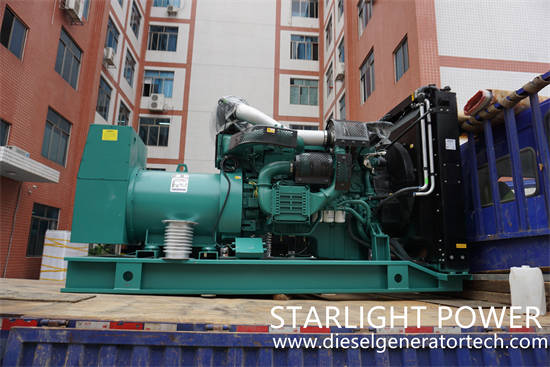 Fuel storage.
If your generator's fuel storage is low, you will need to keep refueling after a while. You will need to keep turning it off to fill the tank, which will cause more power outages and disturbances. If you have a large hotel or restaurant, you'll want a generator with a larger tank so you can take it easy when you need to work. It should have enough fuel to last longer in the event of a prolonged power outage.
Scale.
To buy the right size generator, you first need to consider the size of your facility. The bigger the hotel, the bigger the generator you will need. This is because you need to ensure that your hotel and restaurant can function effectively even in the event of a power outage. Consider which equipment in your hotel will use electricity and which equipment needs to be backed up in order to choose the right wattage generator for your hotel. Keep cost and other issues in mind, and make sure you have enough space to store your generator when you buy it.
Jiangsu Starlight Power Generation Equipment Co., Ltd. was founded in 1974 and is one of the earliest manufacturers of generators and diesel generator sets in China. The company has a registered capital of 218.88 million yuan. The company covers an area of 86,000 square meters and a building area of 55,000 square meters. There are more than 660 employees, including 456 professional technicians and 106 senior technicians. It has 46 sales and service outlets nationwide. The main products are diesel engines, generator sets, and diesel generators, providing users with a one-stop service of design, supply, debugging and maintenance at any time. Starlight has always insisted on using first-class talents, building first-class enterprises, manufacturing first-class products, creating first-class services, and making every effort to build a first-class domestic enterprise. If any question please feel free to visit our website https://www.dieselgeneratortech.com/ or send email to sales@dieselgeneratortech.com.