Jan. 11, 2022
In contemporary society, both life and production are inseparable from the support of electricity. In the season of unstable power supply, configuring generators has become a solution for many enterprises to obtain stable power supply. For generators, it can have a variety of different fuels to choose from, but currently the most popular in the market is diesel, that is, diesel generator sets. While diesel has its pros and cons like any other fuel, diesel's high price performance ratio makes it one of the most popular reasons.

Diesel generators not only make it cheaper for companies to purchase generators, when it comes to the duration of fuel, diesel generators can also get more power and value, which greatly reduces the operating costs of diesel generator sets. Today, Jiangsu Starlight Electricity Equipments Co.,Ltd. will tell you in detail the cost-effectiveness of diesel generators.
1. Fuel Efficiency.
One of the advantages of diesel generators is that diesel generators are much more fuel efficient than you realize, especially when compared to gasoline models. Diesel generators last longer on fuel and use the same volume of fuel. The more energy you get, the stronger and more stable the power supply will be. While diesel is not the most environmentally friendly fuel, it is undeniable that diesel can make generators less expensive to run than other fuels.
2. Cost-effectiveness.
Users generally pay more attention to the initial cost when purchasing generators, and the price of the whole generator determines the purchase cost to a large extent. So, how does it perform for a diesel generator?
One thing is for sure, diesel generators are arguably one of the cheaper options for their initial purchase price. In addition, diesel generators are very strong and durable, they are more cost-effective than other types of generators such as gasoline, and diesel generators do not require as much maintenance or replacement parts as gasoline generators. Generally speaking, diesel generators can be used for a long time without any maintenance or upkeep as long as they are properly maintained.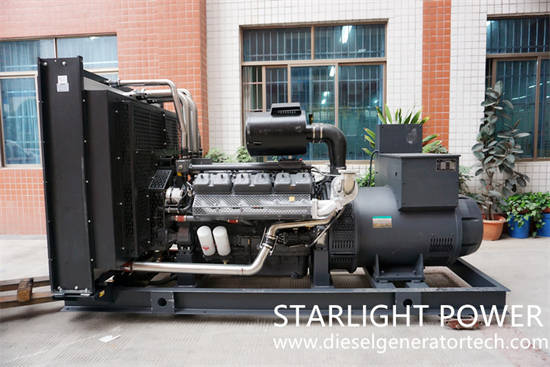 As can be seen from the above, diesel generators are cost-effective, and in the operation of diesel generators, the same amount of fuel can be used for a longer period of time than ordinary gasoline generators. And diesel generators are more durable than other types of generators such as gasoline, which means diesel generators have lower maintenance requirements and costs. It is undeniable that diesel generators are very cheap to run compared to other types of generators, so they are exactly the generators that can meet the needs of a business for stable and reliable power.
If you are looking for a cost-effective diesel generator set, please call Jiangsu Starlight Electricity Equipments Co.,Ltd. for consultation. Jiangsu Starlight Electricity Equipments Co.,Ltd. is one of the earliest manufacturers of generators and diesel generator sets in China. The company has advanced testing equipment, exquisite production technology, professional manufacturing technology, perfect quality management system, strong R & D technical strength, can provide you with 15KW-2500KW diesel generator sets of various specifications. Looking forward to your inquiry, for more details, please contact us with sales@dieselgeneratortech.com