Dec. 02, 2022
Jiangsu Starlight Electricity Equipments Co.,Ltd. Guide:

In recent years, with the development of society and the continuous improvement of people's material level, in many places, including the data center (integrated communication machine room, call center, mobile Internet, etc.), modern high-rise buildings, polysilicon production plants, mines, etc., the demand for electricity is growing, and the commonly used low-voltage 400W AC standby diesel generator set has been difficult to meet the actual demand. Therefore, high voltage AC standby generator set fully reflects its value.
High pressure diesel generator sets are applied to emergency standby power supply systems in high-end service industries and high-end manufacturing industries, such as communication, metallurgy, airports, mines, docks, islands, large data centers, large urban complexes, and black start of medium and large power plants. What are the characteristics of high-voltage diesel generator sets?
1. The voltage level is high. The main domestic voltage levels are 6.6kV, 10.5kV, etc.
2. The capacity of a single unit is large, generally above 1000kW, which can realize parallel operation of multiple units, and can realize parallel operation between groups to 256 units at most.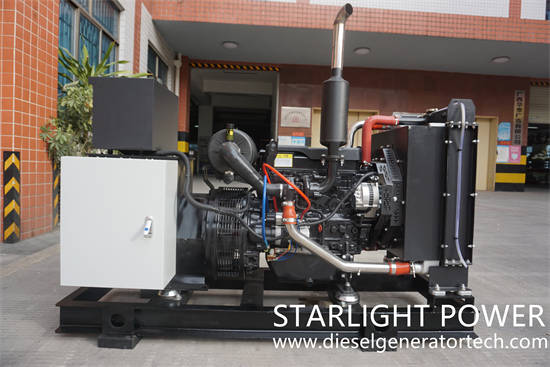 3. The output current is small, which can be used for long-distance transmission, and the line loss in transmission and distribution is small.
4. The load distribution mode is flexible, which can directly supply power to high-voltage loads or low-voltage loads after voltage reduction through transformers.
5. It has a high degree of automation. It integrates the protection, measurement, remote control, remote signaling, telemetering and signal of the electrical system, realizes the comprehensive automation of the electrical system, has the function of protection and alarm signals, and transmits them to the main control room remotely.
Jiangsu Starlight Electricity Equipments Co.,Ltd. is one of the earliest manufacturers of generating sets in China. It has first-class testing equipment, advanced production technology, professional manufacturing technology, perfect quality management system, and strong R&D technical strength. It can provide 3KW-2500KW various specifications of universal, automatic, four protection, automatic switching, low noise and mobile, etc., high-quality, low-energy generating sets to meet all customers' power needs, and can also meet users' different voltages and different Frequency requirements, as well as the parallel-connected power supply system of multiple units, use excellent talents to build excellent enterprises, create excellent products, create excellent services, and strive to build excellent domestic enterprises. For more product details, please contact us with sales@dieselgeneratortech.com.