Dec. 28, 2021
Nowadays, many real estate, schools, factories, hospitals, construction sites, hotels and other related companies have chosen diesel generators as backup power sources. We know that there are many types of generators, including hydroelectric generators, steam turbine generators, gas generators, diesel generators, etc. Why are diesel generators more suitable for backup power than other generators? The reason is that as a backup power source, diesel generator sets have unparalleled advantages over other types of generators, such as:

Safe and reliable.
Unlike gas generators that use spark ignition (SI), diesel generators operate by compression ignition (CI). As the name suggests, spark ignition (SI) requires an electric spark to ignite a mixture of air and fuel and run the engine. In contrast, compression ignition (CI) does not require sparks. It just compresses the air to a very high temperature and then causes a fire. The use of compression ignition (CI) technology makes diesel generators less flammable and less volatile than gas generators. This mechanism can significantly reduce the risk of fire and explosion when the generator fails.
Low fuel consumption.
Gas generators compress air and fuel in their internal combustion engines, while diesel generator sets use only compressed air. Therefore, diesel generators score very high in terms of fuel efficiency. For the same KW power produced, the fuel cost of diesel generators will be about 40% cheaper than gas generators. More importantly, diesel is much cheaper than gasoline, which saves even more.
Low maintenance cost.
Diesel generators have a sturdy and simple construction, so there are fewer parts that may be damaged or require regular replacement or follow-up maintenance. For example, it does not require wires or spark plugs. It also comes with built-in cooling components, no radiator, water pump, thermometer or coolant is required. Therefore, diesel generators have a longer shelf life and lower maintenance costs than other types of generators.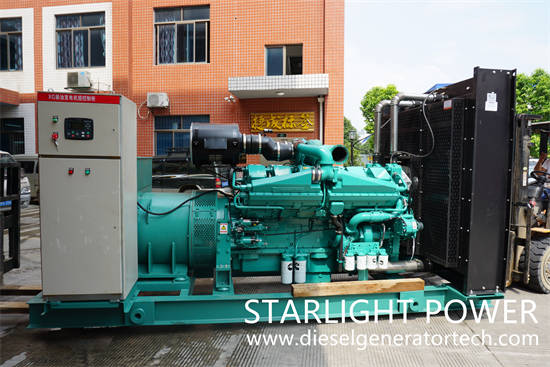 Long continuous power generation time.
Diesel generators are specially designed for long-term power generation. This makes them an important source of stable power in hospitals or other places where uninterrupted power supply is critical.
Strong versatility.
Diesel generators can have many shapes and forms. Different models have different sizes, speeds and capacities to meet any demand. This makes diesel generators a popular choice for a wide range of industries, including agriculture, telecommunications, construction, refrigeration and construction sites. Diesel generators can also serve anywhere perfectly-from homes and offices to hospitals, factories, and even ships. More importantly, diesel generators can be used as the main power source far away from the main grid, and can also generate backup power during power outages or periods of high demand.
Based on the above advantages and characteristics, diesel generators constitute the most widely used backup power source.
If you need to purchase diesel generator sets, please contact Jiangsu Starlight Electricity Equipments Co.,Ltd.
Jiangsu Starlight Electricity Equipments Co.,Ltd. is an OEM partner of Shangchai for many years. It has more than 40 years of experience in the production and manufacturing of diesel generator sets. It can provide users with various specifications of 15KW-2500KW. And other high-quality, low-energy generating sets to meet all customers' power needs. In addition, it can also meet the requirements of users with different voltages and different frequencies, as well as the power supply system of multiple units connected to the network. There are 64 sales and service departments nationwide, providing long-term technical consultation, free debugging, free maintenance, and free training services for users. Welcome contact us by email sales@dieselgeneratortech.com