Aug. 21, 2023
If there is a large-scale power outage or blackout in a large area, all enterprises will be affected to varying degrees. With the rapid economic development in recent years, the power gap is also increasing, and the distribution of resources is not balanced. Generator sets have become a necessity for enterprises in various industries.

Residential and business costs of power outages.
In terms of the cost of a severe interruption of electricity supply, businesses on average face significant associated costs. While business outage loss figures are readily available, residential outages also have significant costs. Many households face costs associated with power outages, including spoiled food and having to buy emergency supplies like flashlights. In many cases, families must find alternative overnight accommodations and pay for mold removal, especially in the event of flooding.
How Backup Diesel Generators Work.
Diesel generators use electromagnetic induction to generate electricity. Diesel engines are used to drive alternators that generate electricity for commercial and residential customers.
Key Differences Between Domestic and Commercial Diesel Generators.
For commercial standby diesel generators, power is a more important factor. Their large diesel engines require more powerful air conditioning systems to meet ongoing commercial demands. Second, commercial backup diesel generators are much larger in size than home diesel generators. For example, an 80kW device has an average length of 2.5 meters, and a megawatt-scale system will run at least twice that length.
To avoid bumps and jumps due to its enormous diesel engine power, commercial diesel generators are fixed in place. They are also quieter than home diesel generators because they are made of materials that dampen vibration and dampen noise.
Commercial and Residential Backup Diesel Generator Maintenance.
Although they are called backup generators, outside of an emergency, you need to run the unit to keep its system available. This action happens automatically and is called a workout. This regularly ensures that the device is performing optimally and gives you peace of mind that it is running when you need it.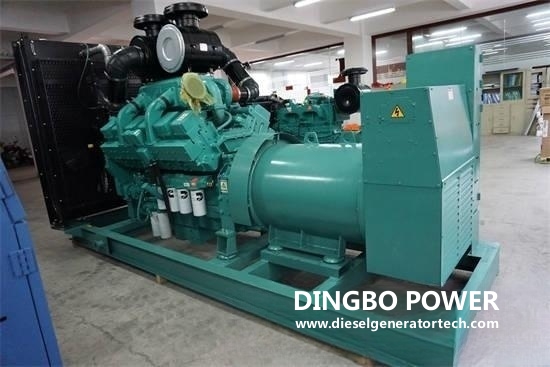 Maintenance is critical when you need the long-term maintainability of your diesel generator. Backup units require battery testing, oil and fuel filter changes, oil changes, spark plugs and firmware upgrades. Lubrication, inspection and testing of output voltage and frequency are all part of the required annual maintenance
For portable diesel generators, it's a good idea to check for stale fuel and natural gas. Stale fuel in diesel generators can cause problems. Spark plugs, fuel and air filters require regular replacement. Without proper maintenance, your portable generator diesel motor will not be ready when needed.
Guangxi Dingbo Power Equipment Manufacturing Co., Ltd. is one of the earliest manufacturers of generators and diesel generator sets in China. The company was established in 2006 and the company occupies an area. It has service departments across the country to provide users with one-stop service of design, supply, debugging and maintenance at any time. Welcome customers to come to consult and visit. Looking forward to your inquiry, please send email to us for details sales@dieselgeneratortech.com