Apr. 28, 2023
With the attention paid to high-rise buildings, the number of diesel generator used in high-rise buildings has gradually increased. However, investing in diesel generator in high-rise buildings is not just about buying diesel generator, but also about knowing the operation knowledge of diesel generator in high-rise buildings. Especially those who work in diesel generator of high-rise buildings. Diesel generator workers in high-rise buildings may have the following behaviors when operating equipment, which may cause danger: operation error causes loss of safety equipment, improper storage of goods, and wrong handling of flammable, explosive and other dangerous goods.

1. Improper use of the machine by operators who fail to follow operating procedures, such as frequent low-speed operations, rapid load addition without warming up, low oil pressure, etc., can accelerate the wear and tear of the components of the unit. Prolonged operation time, excessive load changes, long-term overload operation, etc. can also cause premature damage to the parts.
2. Improper maintenance, failure to strictly follow the technical requirements of the rules to complete all operations while maintaining the machine. Perhaps the wrong operation method was adopted, which constitutes human error, etc. In regular maintenance, it is necessary to replace the engine oil in a timely manner, regularly clean the air filter and water tank for scale, etc., and carry out daily and medium maintenance, major repairs, and level maintenance of the machine according to requirements.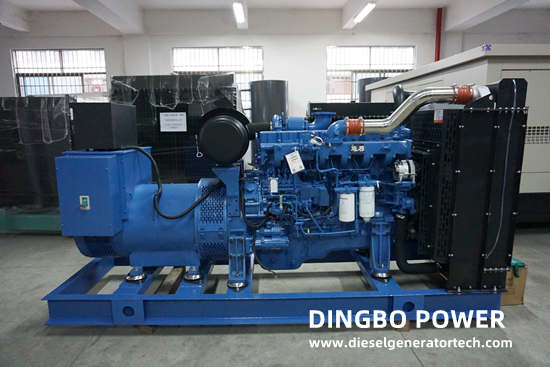 3. The repair quality is not high. During the repair process, if the processing is improper and the repair technology requirements are not met, such as the cooperation gap of various parts, surface roughness, and the cleaning of the device is not clean, it will cause the machine to malfunction during use. The accuracy of the orientation between various parts during the installation process is also important. If it fails to meet the requirements, it can cause additional stress, cause adverse consequences such as eccentric wear, and accelerate the failure of machine accessories.
In high-rise buildings, diesel generator workers must pay attention to safety, standardize operation, obey management and develop good habits. Guangxi Dingbo Power Equipment Manufacturing Co.,Ltd. is a large enterprise producing diesel generator equipment for high-rise buildings, with a long production history and strong technology. We are responsible for guiding users' implementation, guiding equipment installation and debugging, helping users establish reasonable production management systems, establishing records for users, regularly visiting users, and solving their difficulties.
Guangxi Dingbo Power Equipment Manufacturing Co.,Ltd. is one of the earliest manufacturers of generators and diesel generator sets in China. The service department provides users with one-stop service of design, supply, debugging and maintenance at any time. Welcome contact us by email sales@dieselgeneratortech.com.