Sep. 20, 2019
Diesel generator sets generally consist of three parts: engine, alternator (AC generator) and controller. The controller is the brain part of the generator set. It not only provides engine start-up, shutdown, data measurement, data display and fault protection, but also provides power measurement, display and protection functions for the generator. Starlight Power manufacturer will introduce the current widely used controller brand in this article.
1. SmartGen
SmartGen controller is produced by SmartGen (Zhenzhou) Technology Co.,ltd., which was established in 1998. It specialized in design, development, manufacture, sale and service of engine / genset control, ATS and ATS control, engine heaters, battery chargers and related products. And it is one of the most influential equipment manufacturers in the genset industry around the world. The annual sales volume of the control module is nearly 200,000 units. The market share in China has been ranked first in the past 10 years. SmartGen, which owns more than 50 offices or agencies in domestic and overseas, is committed to providing satisfied products and services for customers.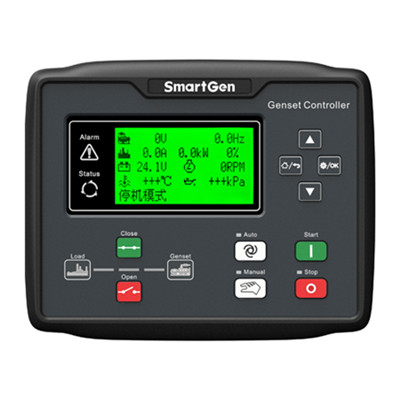 2. Fortrust
Fortrust is developed by Shanghai Fortrust Power Electric Co.Ltd. Its leading products are: sensor, electronic governor, engine monitor, generator set control panel and genset automation control system. Fortrust can provide a perfect solution for power generation control, from power parameter measurement, electronic speed regulation, engine monitoring, generator monitoring to automatic distribution system. Fortrust products are widely used in marine and diesel gen sets, power suply vehicles for military radar, construction machinery and so on. Fortrust has not only become a well-known brand in electronic control field in diesel engine, but also the mainly supplier of electronic control products for domestic engine manufacturers such as Weichai, Baudouin, Yuchai, SDEC, etc.
3. ComAp
ComAp designs and manufactures control products for power generation and engine control, along with associated accessories and software. The main products are: ATS controller, genset controller, generator controller, engine controller and non-road mechanical controller dual fuel products. The InteliLite ComAp controller uses micro-processing technology to write the software for the generator set, which improves the control of the genset's output voltage, voltage phase, active power and reactive power. Each component of the product undergoes the most stringent standards in the manufacturing process, and the quality is relatively guaranteed.
4. Harsen
Harsen controller is the main product of Harsen Industrial Co., Ltd. It is a Hong Kong-owned enterprise and has been engaged in the sales and promotion of low-voltage electrical products and the supporting products of generator sets in China (including Hong Kong and Macao SAR). The GU series diesel generator intelligent controller and ATS conversion controller developed by the company use leading control technology to realize the power supply system, automatic protection and unattended operation of imported and domestic diesel generator sets of different brand models. It is widely used in the control system matching and technical transformation of various diesel generating sets.
5. DEIF
DEIF was established in Denmark in 1933, today the DEIF Group is a global market leader in green, safe and reliable control solutions for decentralised power production on land or at sea. The DEIF Group's sales office, technical center and training center are located in nine major market regions in Europe, Asia and the America, with distributors in 35 other countries. DEIF Controller China sales center-DEIF Control Electric Appliance Trading Co., Ltd. was established in 2006, the main business is to sell engine and generator set controller, marine instrument, switchboard instrument and renewable energy controller in China, but also to provide related technical support and training services.
6. Deep Sea
Deep Sea (DSE) is industry leading generator control module, made in UK. Deep Sea Electronics is one of the world's top manufacturers of generator controllers, auto transfer switch controllers, battery chargers and vehicles & off-highway controllers. After more than 40 years of development, DSE has developed more than 140 different products, providing flexible control solutions for multiple applications, and its products are sold in more than 150 countries.
DSEGenset is an intelligent range of single-set and multi-set generator control solutions, mains (utility) protection relays, lighting tower control solutions, digital automatic voltage regulators (AVR's), remote communications devices and expansion modules.
All the controllers mentioned above are well-known brand control modules. Customers can choose the right controller for the diesel generator set according to their needs. As a supporting manufacturer of professional diesel generators, Starlight Power has been working with SmartGen, Deep Sea and ComAp controller companies for many years to provide customers with quality assurance generator control modules.