Apr. 29, 2019
Huachai Deutz series products are produced under the license of DEUTZ, including B/FL413F/513 series air-cooled diesel engine and BFM1015 series, TCD2015 series and HC4132 water-cooled diesel engine with independent intelligent right and generator set. The company is the sole manufacturer of BFM1015 series and TCD2015 series diesel engines with the authority from German Deutz in the world.
With the advantages of small volume, light weight, low fuel consumption, low noise, strong adaptability, high reliability and convenient maintenance, the Deutz engines produced by Huachai are widely used in engineering machinery, special vehicles, generator sets and other fields.
1. High reliability
① The complete set of technology and process are all from German Deutz , and are calibrated strictly according to Deutz's production specifications and power.
② The key parts affecting the engine are all imported from Germany (crankshaft, piston ring, bearing bush, sealing element, etc.)
③ ISO and military dual quality system certification
④ Each engine is tested on the bench before leaving the factory to ensure that the product is 100% qualified.
2. Ultra low fuel consumption
Deutz's bare metal emissions reach the national 2 (Euro II) emission level, fuel consumption rate is only 195g/kw.h. In the field of iron mine, stone production, the cement mixing station, factories and generator sets, only the advantage of well fuel-efficient has created a huge economic benefit for the users.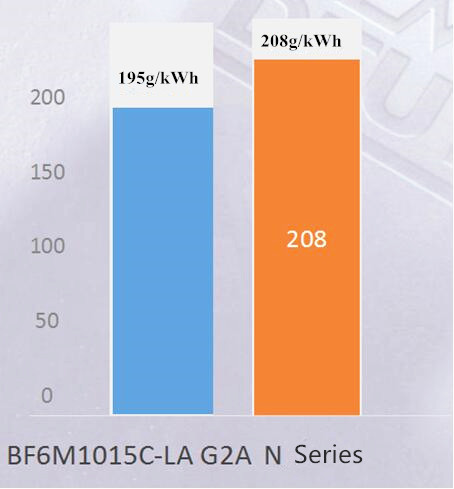 3. Excellent cold start performance
For the CNGC military application, the introduced products have an excellent low temperature starting performance. Through the experiments in the low temperature laboratory and the low temperature test, the V6 engine can start up quickly within -19°C without any cold start assistance, and can achieve a quick start-up within - 40°C by adding a simple preheating device.
The V8 engine can start up quickly within -17°C without any cold start assist. A simple preheating device can be added to achieve a quick start within -35°C.
The V12 engine can start up quickly within -18°C without any cold start assistance, and can achieve a quick start within -32°C with simple preheating device. A quick start within -43°C can be achieved with the installation of a small circulation heating system. If there is a lower temperature requirement, special customization can be made to achieve lower temperature occasions.
4. Perfect plateau adaptability
According to the engine characteristic curve obtained from simulated plateau test of Huachai experimental base and weapons research institute, Deutz V6, V8, V12 engines have no power loss below 1000 meters above sea level, and the power loss is 0.9% for every 100 meters higher than 1000 meters above sea level, meeting the working condition requirement of 5000 meters above sea level.
BFM1015 Series Diesel Engine plateau Adaptability Index

No power loss altitude

≤1000 m

4000m altitude power loss

27%

Ambient temperature exceeding 40 degrees, power loss 4% for every 10 degrees increase

No power loss ambient temperature

40°

Power loss at ambient temperature of 50 degrees

4%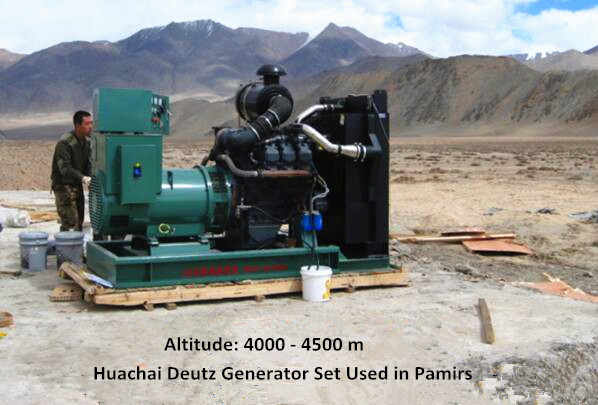 Characteristics of BFM1015 Series Diesel Engine
BFM1015C/CP series water cooling diesel engine is V type structure – V6 and V8
Wide power range: BFM1015 series engineering machinery water-cooled diesel engine power covers 223-440KW, torque reserve 30%-45%, rated speed range 1800-2100rpm, suitable for matching different products, and ensure the use of different working conditions.
High reliability: The engine adopts the inner oil-line and inner water channel structure that makes the external pipes less distinctly. It can reduce the potential possibilities of failures. The service life is about 15000 hours.
Good emission: The BFM1015 series water-cooled diesel engines have been tested by the national verification agency, and the exhaust pollutants and exhaust visible substances are lower than the Euro II standard.
Complete accessories: BFM1015 series diesel engine can provide air compressor, generator, fan, coupler, air filter, silencer, intercooler, water tank/radiator, instrument and other accessories to meet different needs of users.
5. High degree of serialization, easy maintenance.
① Deutz products have the characteristics of one cylinder and one cover, which is easy to maintain and reduces maintenance costs.
② Deutz's various parts have good versatility. Apart from the different axial parts, other parts have high interchangeability: for example, four matching, three filters, belts and other parts, reducing the spare parts storage.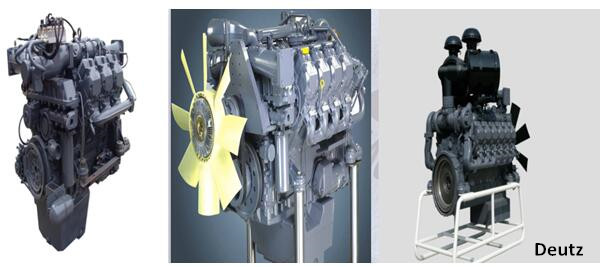 Comparing to Cummins Generator
| | | |
| --- | --- | --- |
| Deutz V6 Engine VS CCEC Cummins N Series | Fuel Consumption (g/kwh) | Emission level |
| Deutz | 195 | EU II |
| Cummins | 208 | Below EU I |
| V8 Engine VS Cummins K Series | Fuel Consumption (g/kwh) | Emission level |
| Deutz | 196 | EU II |
| Cummins | 210 | Below EU I |
Note: Save more than 1 litre per 100kw power output for 1 hour.
Compared with the same power engine, Deutz engine is small in size and light in weight. It is suitable for space-demanding conditions and is more suitable for canopy type gensets and silent generator sets.
| | | |
| --- | --- | --- |
| Deutz engine | Weight (kg) | Power/Weight (kw/kg) |
| V6 | 850 | 0.43 |
| V8 | 1060 | 0.46 |
Military power is more demanding on space requirements. Deutz should be your first choice with its superior feature.
Starlight Power can provide 200KW to 600KW Deutz diesel generator set produced by Huachai company with good quality and low price. Genset type includes open type, silent type, trailer type and container type power generating sets.