Dec. 28, 2019
Jiangsu Starlight Electricity Equipments Co.,Ltd. is authorized as the OEM supplier of Deutz diesel engine of generator set in China. Jiangsu Starlight Deutz series diesel generator set power range is from 26kw to 660kw. Today we mainly share Deutz diesel engine BF8M1015CP-LA G5 of 500kw generator set.
Characteristic of Deutz diesel engine BF8M1015CP-LA G5 of 500kw generator set.
1.Compact structure, reasonable design, reliable and excellent performance;
2.Long working life and economical use;
3.In terms of product structure, it has three product platforms, i.e. C, E and D, with power covering 85-340 horsepower and more than 300 varieties of variant and adaptive products. It can provide power products with higher scientific and technological content and higher degree of specialization for different demand fields, such as medium and heavy trucks, light vehicles, buses, construction machinery, etc;
4.Diesel engine has advanced, efficient, reliable, energy saving, environmental protection and a series of significant advantages. It has the function of air inlet and return, and can adapt well to the plateau and high altitude areas.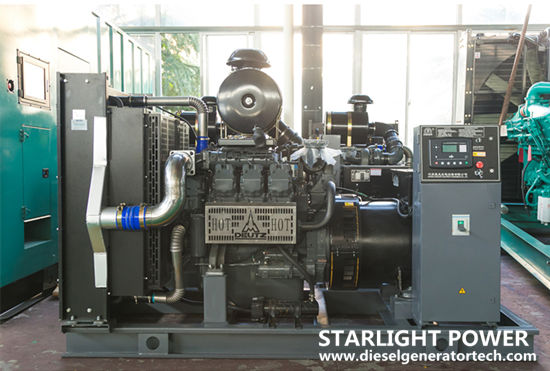 Deutz diesel engine BF8M1015CP-LA G5 for 500kw generator set performance data

Diesel engine power:

560kw

Rated speed:

1500rpm

No. of cylinder:

8

Control Systems:

mechanical /electronic

Aspiration Mode:

Turbocharged

Inter-cooling Method

CAC

Cylinder Type:

One-cylinder-one-head

Displacement:

15.874L

Cylinder Arrangement:

V-form 90°angle

Effective Pressure:

28.2bar

MAX. exhaust gas temperature:

650℃

Charge air temperature:

219℃

Inlet air (25℃/1000mbar):

2288 m3/h

Emission:

2742 kg/h

Notes: 1. While engine under testing, fan and alternator not included.

2. According: ISO3046-1
Deutz diesel engine BF8M1015CP-LA G5 data sheet

Rated speed:

1500rpm

Dry weight:

1060kg

Max. engine width:

920.5mm

Max. engine length:

1142.3mm

Bore:

132mm

Stroke:

145mm

Compression ratio:

16.5

Rotation direction (View from flywheel):

Anti-clockwise

Flywheel housing:

SAE1

Flywheel:

14"

No. of flywheel teeth:

167

Engine support:

Rigid bracing

Power decrease value:

By increasing per 100m while exceeding an altitude of 1000m:

≤0.90%

By increasing per 10 ℃ while exceeding a temperature of 30 ℃:

≤4%

Battery voltage:

24V

Starter rated power:

8kW

Generator Capacity:

35/55A

Generator voltage:

28.5V

Max. exhaust back pressure:

50mbar

Max. allowable air inlet resistance:

50mbar

Turbocharger inlet size:

150mm

Turbocharger exhaust flange connect bolt:

M10mm

Turbocharger exhaust flange inner diameter size:

117mm

Min. oil pressure at 1500rpm (oil temperature 90℃):

≥3bar

Min. oil pressure at 600rpm (oil temperature 90 ℃):

≥1bar

Oil temperature of normal operation:

<130℃

Oil consumption rate:

<0.3% of fuel consumption

Oil pan:

Flywheel side

Oil pan inclination:

22.5

Initial oil filling:

48L

Oil filter element type:

Disposable filter

No. of oil filter element:

1

Cooling Systems:

Engine coolant capacity:

21L

Water-pump flow:

347L/min

Water-pump pressure:

1.25bar

Allowable pressure loss of cooling system (include pipeline):

≤0.35bar

Heat carry off by coolant:

330kW

In&Outlet coolant size:

70mm

Temperature of switch on two thermostats respectively:

79/87℃

Temperature of switch on two thermostats totally:

94/102℃

Max. allowable operating temperature:

103℃

Temperature difference between inlet and outlet coolant:

≤8℃

Inter-cooler cooling power:

130kW

Charge air outlet size:

127mm

Fan:

Exhaust type

Fan connection:

Gear drive + coupler

Fan diameter:

980mm

Air volume of fan:

6.2m3/s

Fan power consumption:

≤14.1kW

Fan transmission ratio:

0.96

Cold starting systems:

Lowest ambient temperature of cold starting without assistant (standard configuration) :

-17℃

Lowest ambient temperature of cold starting with flame preheat plug:

-32℃

Fuel Systems:

Cylinder ignition sequence:

1-8-4-5-7-3-6-2

Idle speed:

650rpm

Low-pressure pump oil load capacity

190L/h

Engine stop:

Energized to stop

Fuel filter element type:

Disposable filter

No. of the fuel filter element:

2
During the use of Deutz 500kw diesel generator set, What should we pay attention to?

1.We should drain the the accumulated water in the oil-water separator after every 50 hours of operation and check the electrolytic level of starting battery;
2.Check the valve clearance and fuel injector after 200-300 hours of operation;
3.It is necessary to check and adjust the drive belt after every 400 hours of operation. If necessary, replace it. Check and clean the radiator chip and discharge the sludge in the fuel tank;
4.Replace the lubricating oil and lubricating oil filter every 600 hours of operation or at least every 12 months;
5.The frequency of lubricating oil change cycle of the unit varies according to the quality of lubricating oil, sulfur content of fuel oil and the consumption of lubricating oil by the unit;
6.Replace the oil-water separator and fuel filter every 800 hours of operation. And check whether the turbocharger and the intake pipe is leakage or not, and the fuel pipe shall be checked and cleaned;
7.Adjust the valve clearance after every 1200 hours of operation. Replace the air filter and coolant, and thoroughly clean the radiator chip and water channel of the water tank after every 2000 hours of operation;
8.Check the fuel injector, thoroughly check and clean the turbocharger, and comprehensively check the engine equipment after every 2400 hours of operation.
Jiangsu Starlight has focused on high Deutz generator set for more than 43 years, welcome to inquire us(sales@dieselgeneratortech.com) for good performance product and competitive price.