Mar. 05, 2020
Deep Sea DSE8610 MKII control panel of diesel generators is synchronising auto start load share control module.
The DSE8610 MKII represents the latest in complex load sharing & synchronising control technology. Designed to handle the most complex grid type generator applications the DSE8610 MKII is packed with multiple features and benefits that are unrivalled across the generator control industry.
Deep Sea control module DSE8610 MKII is an easy to use Synchronising Auto Start Control Module suitable for use in a multi-generator loadshare system, designed to synchronise up to 32 generators including electronic and non-electronic engines.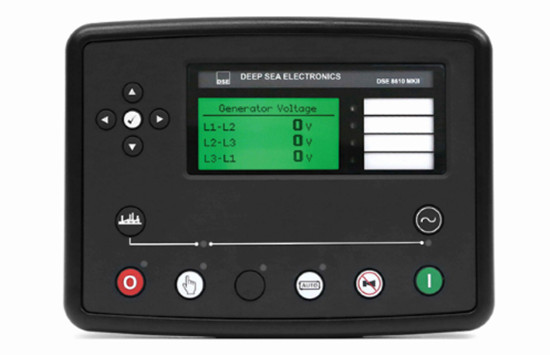 The DSE8610 MKII monitors the generator and indicates operational status and fault conditions, automatically starting or stopping the engine on load demand or fault condition. System alarms are annunciated on the LCD screen (multiple language options available), illuminated LED and audible sounder.
The event log will record 250 events to facilitate easy maintenance, and an extensive number of fixed and flexible monitoring, metering and protection features are included.
Using the DSE PC Configuration Suite Software allows easy alteration of the operational sequences, timers and alarms. With all communication ports capable of being active at the same
time, the DSE8610 MKII is ideal for a wide variety of demanding load share.
KEY LOAD SHARE FEATURES:

• Peak lopping/sharing (with appropriate DSE mains controller)
• Sequential set start
• Manual voltage/frequency adjustment
• R.O.C.O.F. and vector shift protection
• Generator load demand
• Automatic hours run balancing
• Mains (Utility) decoupling
• Mains (Utility) decoupling test mode
• Dead bus sensing
• Bus failure detection
• Direct governor and AVR control
• Volts and frequency matching
• kW and kvar load sharing
• Dead bus synchronising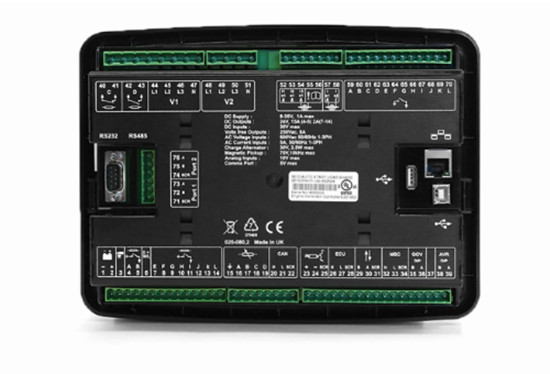 KEY FEATURES
• Comprehensive synchronising & loadsharing capabilities
• Built in governor and AVR control
• Base load (kW export) control
• Positive & negative kVAr export control
• Mains (Utility) decoupling protection
• 4-Line back-lit LCD text display
• Multiple Display Languages
• Five key menu navigation
• LCD alarm indication
• Heated display option available
• Customisable power-up text and images
• DSENet expansion compatibility
• Data logging & trending facility
• Internal PLC editor
• Protections disable feature
• Fully configurable via PC using USB, RS232, RS485 & Ethernet communication
• Front panel configuration with PIN protection
• Power save mode
• 3 phase generator sensing and protection
• Generator current and power monitoring (kW, kvar, kVA, pf)
• kW and kvar overload alarms
• Reverse power alarms
• Over current protection
• Unbalanced load protection
• Independent earth fault protection
• Breaker control via fascia buttons
• Fuel and start outputs configurable when using CAN
• 8 configurable DC outputs
• 2 configurable volt-free relay outputs
• 4 configurable analogue/digital inputs
• Built in sensors to support 0 V to 10V & 4 mA to 20 mA
• 12 configurable digital inputs
• Configurable 5 stage dummy load and load shedding outputs
• CAN, MPU and alternator frequency speed sensing in one variant
• Real time clock
• Manual and automatic fuel pump control
• Engine run-time scheduler
• Fuel usage monitor and low fuel level alarms
• Simultaneous use of all communication ports
• Remote SCADA monitoring via various DSE software applications
• MODBUS RTU & TCP support with configurable MODBUS pages for integration into building management systems (BMS)
• Advanced SMS messaging (additional external modem required)
• Start & stop capability via SMS messaging
• 3 configurable maintenance alarms
• Compatible with a wide range of CAN engines, including tier 4 engine support
• Uses DSE Configuration Suite PC Software for simplified configuration
Starlight Power is a manufacturer of diesel generator set, we are also authorized as a supplier of Deep Sea control panel for generator set in China. Usually our genset is equipped with SmartGen or Deep Sea control panel. If you have plan to purchase generator set and need Deep Sea control panel to equip with the genset, welcome to contact us by email sales@dieselgeneratortech.com.