Jan. 10, 2022
Containerized diesel generators are heavy-duty energy sources that can be particularly used in industry and construction, where industry requires energy for equipment and sometimes the productivity of industrial equipment is adversely affected due to location and lack of cleaner energy sources. For example, the institutional equipment required for mining is generally large, and it is difficult to meet the energy demand in some places. This is the advantage of industrial diesel generators. Today, Jiangsu Starlight Electricity Equipments Co.,Ltd. has more benefits listed for you to prove why containerized diesel generators are ideal for heavy-duty energy needs.

1. Low fuel consumption.
With the development of technology, the efficiency of heavy machinery has greatly improved. Unlike conventional generators, the fuel consumption of conventional generators can exceed the expected efficiency of the generator. This compact and highly optimized containerized generator design especially increases its efficiency while reducing fuel consumption.
2. Easy to move.
The containerized design of diesel generators makes them a suitable choice for the industry in the long run. The containers are made of high quality metal, mainly steel, with dust and water resistant coatings to avoid external wear.
In addition, the construction of the container takes into account the transportation needs of the industry. The durability of the container allows it to be easily transported from one site to another without affecting the generator.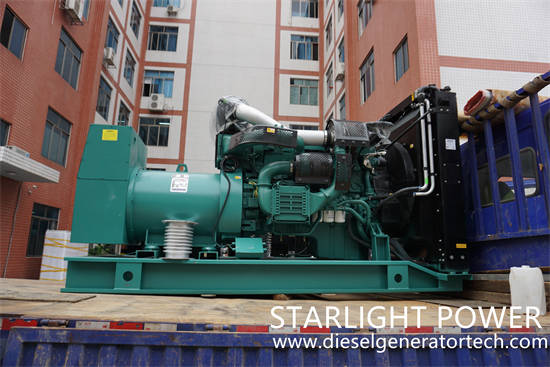 3. Scalability.
Not every piece of equipment has the same energy requirements. Equipment may change as projects change, and demand for energy will increase wherever container generators are providing energy here. Due to its easy expansion, it can efficiently provide the required energy.
4. Guaranteed performance.
With changes in altitude and temperature, generators can be greatly affected and may even go out of power. These power outages adversely affected the functioning of the industry. Thanks to the container, and the installation of a high-quality cooling system, the generator can work at the specified altitude and temperature.
5. Enhanced noise absorption.
One of the main benefits this container brings is noise reduction. Thanks to the noise reduction properties integrated with the container, these generator noises no longer affect people around them.
The container diesel generator set of Jiangsu Starlight Electricity Equipments Co.,Ltd. adopts the standard container frame outer box, built-in diesel generator set, and the whole set is exquisitely designed with special equipment and accessories. It is widely used in oil fields, outdoor large enterprises, mines and other fields. If you want to know more about the price and detailed technical parameters of the container diesel generator set, please contact Jiangsu Starlight Electricity Equipments Co.,Ltd.. Looking forward to your inquiry, please send email to us for details sales@dieselgeneratortech.com