Feb. 06, 2023
The parallel operation of diesel generator sets is mainly for the perfect connection with the power supply. There is a synchronous generator intended to be connected in parallel with the unit (power grid) that has supplied power to the load. In order to avoid damage to the stator winding end and shaft caused by large current impact and sudden torsional moment on the generator shaft when the parallel connection is put into operation, certain conditions need to be met for combined brake. That is, the instantaneous value of generator phase potential and the instantaneous value of grid voltage should always be equal. The above conditions for combined brake can be divided into the following four.

(1) The phase sequence of generator voltage and bus (grid) voltage shall be consistent. The phase sequence of the diesel generator set has been clearly specified when leaving the factory and marked at the outgoing line end, which can be realized during installation and wiring.
(2) The output voltage (excitation potential) of the generator is equal to the grid voltage (amplitude) and the waveform is the same. The former is realized by adjusting the excitation current If of the generator, and the latter is guaranteed during the design and manufacture of the generator.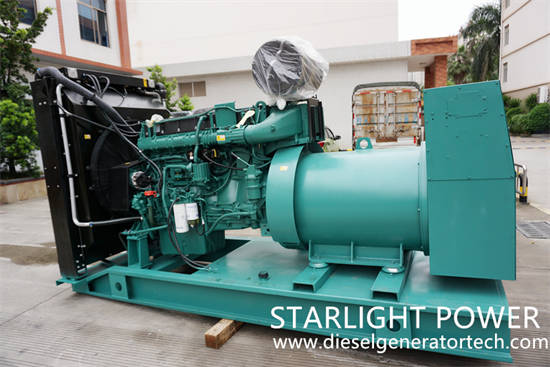 (3) The voltage frequency of generator shall be consistent with that of bus (grid) voltage. The generator speed can be adjusted to achieve the consistency with the bus (grid) voltage frequency.
(4) The output voltage of the generator and the voltage phase of the bus (grid) should be the same, that is, the loop potential between the generator and the grid is zero. This can be achieved by adopting different grid connection methods and selecting appropriate grid connection instants.
Jiangsu Starlight Electricity Equipments Co.,Ltd. is a manufacturer of professional generators, diesel generator sets, Cummins generator sets, Volvo generator sets, etc. The company has advanced testing equipment, excellent production technology, professional manufacturing technology, perfect quality management system, and Strong R&D technical strength. It can provide 15KW-2500KW various specifications of universal, automatic, four protection, automatic switching, low noise and mobile, etc., high-quality, low-energy generating sets to meet customer power needs, and can also meet users' different voltages and different frequencies, as well as the power supply system of multiple units connected in parallel, welcome customers to inquire. For more details, please contact us with sales@dieselgeneratortech.com.