Nov. 30, 2021
The current electric power industry mainly uses oil-filled transformers, and in special occasions, dry-type transformers or sulfur hexafluoride transformers are also used. At present, the state monitoring of transformers at home and abroad mostly uses partial discharge monitoring, ultrasonic positioning technology and infrared technology. For Cummins generator set oil-filled transformers, in addition to offline, regular and effective chromatographic analysis of dissolved gases in the oil, the main research application is on-line dissolved gas and micro-water analysis technology.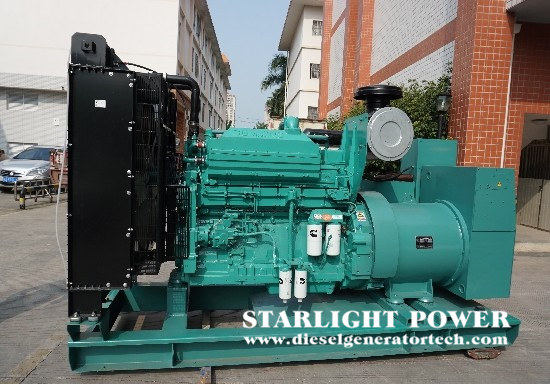 For the high voltage bushing of Cummins generator set transformer, digital online measurement technology of dielectric loss factor is usually adopted. For on-load voltage regulating switches with more faults, an on-load fault on-line diagnosis device is used to measure contact wear and Cummins generator sets and electrical circuits. In addition, oil temperature, turn winding temperature, load current and voltage, cooling pump, fan operation and other parameters are also monitored.
The status monitoring of the generator set transformer involves the main components: magnetic circuit, winding and solid insulation, liquid insulation (gas insulation) and cooling system. The faults to be diagnosed are: overheating faults, discharging faults, overheating and discharging faults, mechanical faults, and water ingress and damp.
Commonly used partial discharge monitoring and diagnosis, mostly use electric pulse signal method and ultrasonic method. The joint monitoring of electrical and acoustic signals achieves ideal quantitative and positioning effects, and the fault is judged based on the apparent discharge volume, distribution map and the positioning of the Cummins generator set.
The analysis of the content of dissolved gas components in oil (DGA), first based on the principle of dissolution equilibrium, using various degassing methods of different principles, such as: vacuum, permeable membrane, Cummins generator set, gas elution, etc., to remove the gas in the oil , And then use a separation column for separation, and then detect by detectors (such as TCD, FID, etc.), or use sensors of various principles to detect different components of gas, and finally according to the common domestic and foreign component ratio method or multi-dimensional graph According to the method, combined with the electrical test and offline periodic test results, a comprehensive analysis and diagnosis of latent faults are made.
Recently, technologies such as composite permeable membrane, electrochemical-fuel cell, and infrared detection have been developed to analyze the content of dissolved gas components in oil. Because the accuracy of DGA analysis and judgment has been recognized at home and abroad, this technology has become a research hotspot in various countries. At present, single-component, total combustible gas, four-component, six-component, and seven-component online monitoring devices have been put into operation at home and abroad.
Starlight Power has advanced testing equipment, modern production technology, professional manufacturing technology, perfect quality management system, and strong technical research and development capabilities. It can provide 3KW~2500KW various specifications of ordinary, automatic, four protection, automatic switching, low noise and mobile generator sets, high quality and low energy consumption to meet the diverse power needs of customers, and can also meet users with different voltages and different frequencies. It is required to create a parallel power supply system for multiple units. If you are interested in our product or any question on generator, welcome to send email to sales@dieselgeneratortech.com.