Aug. 12, 2021
The muffler can block the propagation of sound waves and allow the airflow to pass through. It is an effective device to control the noise elimination in the noise elimination room of the generator. There are many types of generator mufflers, and they can be divided into seven main types, namely resistive muffler, resistive muffler, impedance compound muffler, micro-perforated plate muffler, small hole muffler, active muffler and damping muffler.

The sound intensity of the generator exhaust system is measured in decibels. The decibel is a unit of measurement used to express the ratio of one physical property to another on a logarithmic scale. The decibel (dBA) is a measurement used to approximate the human ear's response to sound.
In the early stages of muffler rating, there were four basic levels. Industrial, commercial, residential, and hospital grades are considered industry standards for muffler manufacturing. During this period, different manufacturers have different levels of sound reduction. The Power Generation Systems Association (EGSA) has developed a rating guide to provide a consistent muffler rating for any manufacturer belonging to the association. This has become the industry standard for manufacturing.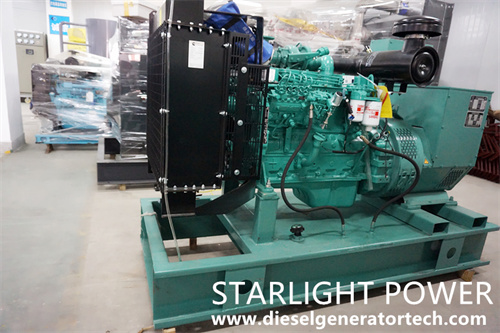 Common levels are:
Industrial grade-exhaust noise reduced by 15 to 20 decibels.
Residential grade-exhaust noise reduced by 20 to 25 decibels.
Critical level-exhaust noise reduced by 25 to 32 decibels.
Supercritical level-exhaust noise reduced by 30 to 38 decibels.
Hospital Grade-Reduced exhaust noise by 35 to 42 decibels.
Hospital additional level-reduce exhaust noise by 35 to 50 decibels.
Extreme level-exhaust noise reduced by 40 to 55 decibels.
Ultra limit level-exhaust noise reduced by 45 to 60 decibels.
It is worth noting that not every muffler and style is suitable for all grades. Each manufacturer produces various styles of different grades, and its production cost and the physical properties of the muffler determine the grade availability.
Jiangsu Starlight Electricity Equipments Co.,Ltd. was founded in 1974, as a wholly-owned subsidiary of Jiangsu Starlight Power Group, it is one of the earliest manufacturers of generator sets in China. Starlight Power has 64 sales services, long-term technical advice for users, free debugging, free maintenance, free training services. For more details, please contact us with sales@dieselgeneratortech.com