Oct. 18, 2022
The noise of generators, especially diesel generators, may be very loud during operation. This is a big problem in areas with strict requirements for noise. Because they will damage the hearing of people who have to work near them, and cause annoyance to people who work or live near them. In order to solve this problem, Starlight Power Group has developed a silent box type diesel generator. The Starlight silent diesel generator operates in the silent box, which will eliminate the noise generated by the diesel generator during operation.

Combustion noise is the structural vibration and noise generated by diesel combustion in the generator set. The noise of unit fan is composed of eddy current noise and rotating noise. Rotating noise is caused by periodic disturbance of fan blade cutting air flow. Vortex noise is generated when the air flow separates on the rotating blade section. Vortex flow caused by gas viscosity. When the diesel generator set works normally, it needs enough air flow to create good heat dissipation conditions for the unit, otherwise the unit cannot guarantee its performance. Generator noise includes electromagnetic noise caused by magnetic field pulsation between stator and rotor, and mechanical noise caused by rolling bearing rotation. The noise of the machine room is (80db-90db).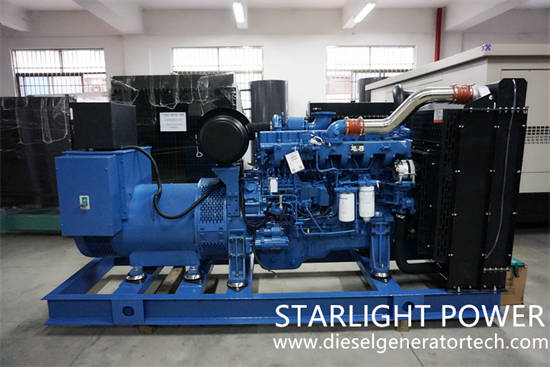 The purpose of Starlight Power Group's silent box diesel generator is to provide our customers with generators that are easy to use and maintain. They are designed for functionality and have good maintenance access, so you can easily run the generator. If you want to know more about silent diesel generators or are ready to purchase silent diesel generators, please contact Starlight Power Group. Starlight Power Group has a full range of high-quality, high silent diesel generators to choose from.
Starlight Power has advanced testing equipment, modern production technology, professional manufacturing technology, perfect quality management system, and strong technical research and development capabilities. It can provide 3KW~2500KW various specifications of ordinary, automatic, four protection, automatic switching, low noise and mobile generator sets, high quality and low energy consumption to meet the diverse power needs of customers, and can also meet users with different voltages and different frequencies. It is required to create a parallel power supply system for multiple units. If you are interested in our product or any question on generator, welcome to send email to sales@dieselgeneratortech.com.