Jan. 05, 2023
What will be the impact on the generator if the injection pump of the diesel generator injects too much fuel? It is worth noting that for the combined fuel injection pump, the adjustment of the fuel supply volume of each cylinder, the maximum fuel supply volume, the fuel supply interval between the two cylinders, and the limit screw of the throttle handle should be carried out on the special fuel injection pump test bench. It cannot be adjusted by experience alone, otherwise it is easy to cause "runaway" accidents.

When the fuel supply is too much, the fuel consumption will increase, the fuel will not burn completely, the diesel engine will emit black smoke, the combustion chamber will have serious carbon deposition, which will accelerate the wear of the cylinder, piston and piston ring, and even cause the diesel engine to overheat and "knock". What are the main reasons for the excessive fuel delivery of the fuel injection pump of the diesel generator set.
① The fuel injection pump plunger is adjusted to supply too much fuel, or the adjusting ring gear locking screw is loose, resulting in the displacement of the adjusting ring gear. The fuel supply of the fuel injection pump is too large.
② The adjustment screw limiting the maximum oil volume of the rack in the governor is adjusted too large or the throttle handle limit screw is adjusted too large,
③ Too much oil in the governor will increase the oil supply and cause "runaway".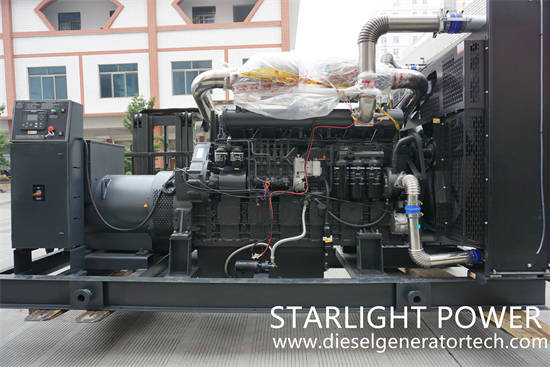 According to the smoke exhaust situation, if it is judged that the fuel supply is too much, the side cover of the fuel injection pump can be opened to check whether the locking screw of the adjusting gear ring is loose and causes the gear ring to move, causing too much fuel supply. If the locking screw is not loose, check whether the oil supply is adjusted too much during the adjustment. At this time, check the engine oil volume in the governor, limit the maximum oil volume adjustment screw and throttle handle limit screw.
Jiangsu Starlight Electricity Equipments Co.,Ltd. is a manufacturer of professional generators, diesel generator sets, Cummins generator sets, Volvo generator sets, etc. The company has advanced testing equipment, excellent production technology, professional manufacturing technology, perfect quality management system, and Strong R&D technical strength. It can provide 15KW-2500KW various specifications of universal, automatic, four protection, automatic switching, low noise and mobile, etc., high-quality, low-energy generating sets to meet customer power needs, and can also meet users' different voltages and different frequencies, as well as the power supply system of multiple units connected in parallel, welcome customers to inquire. For more details, please contact us with sales@dieselgeneratortech.com.