Nov. 26, 2021
The basic structure of diesel generator set is composed of diesel engine and generator. Diesel engine is used as power to drive generator to generate electricity. Nowadays, the diesel generator is widely used in many fields, such as mines, railways, field sites, road traffic maintenance, factories, enterprises and hospitals and so on.

Diesel generator set is generally composed of four parts: diesel engine , AC synchronous generator, control panel and common base. The image below will help you understand better.
Structure of Diesel Generator Set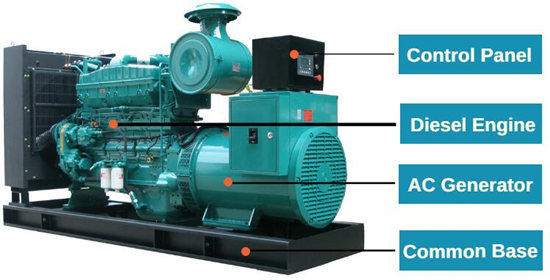 Diesel Engine
Diesel Engine is a compression ignition engine with diesel fuel. It is widely used as the prime mover for electrical power generating unit in the range from 20 KW to 5000 KW.
Diesel engine is classified in different ways. It can be classified in accordance to its number of strokes, cooling way, air admission way, cylinder number, cylinder arrangement and rotation speed. The detailed information is as follows:

1). Classification according to the number of strokes, there are two main types, four strokes and two strokes. However, four stroke diesel engine is more widely used.
2). Classification according to the cooling way, there are water-cooled and air-cooled two types. However, water-cooled diesel engine is used more widely.
3). Classification according to the air admission way, there are non-supercharging (naturally aspirated) and supercharging mode two types.
4). Classification according to the cylinder number, there are horizontal bar, parallel bars and multi-cylinder diesel engine.
5). Classification according to the cylinder arrangement, there are in- line type, V type, horizontal type and opposite type diesel engine.
6). Classification according to the rotation speed, diesel engines are built to rotate at either low speed, medium speed or at high speed.
Low speed range can be as low as 150 to 450 rpm for large size machines.
Medium speed can be from 600 to 1200 rpm for medium size machines.
High speed can be from 1500 to 1800 rpm for medium and small size machines.
Control Panel
The main purpose of control panel is to distribute the electric energy output by diesel generator set to users' load or electric equipment through control panel.
Generally, it is equipped with voltmeter, ammeter, frequency and control switches related electrical equipments on the control panel. It aims to show the operation of the generator set and to maintain the voltage stability of the genset under the condition of load change.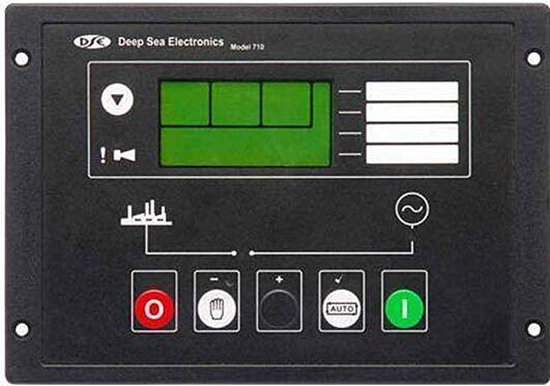 Application of generating set
As self-contained power supply and standby power supply, diesel generator set has been widely used in communication base stations to guarantee the stability and reliability of power supply system.
Self-contained power supply: It is prepared as standby power supply when the power supply system blackouts. When the power supply interruption, the self-contained power supply will be put into the system immediately to work. It applies for the scene that needs less power.
Reserve power supply: It is also known as emergency power supply. Such power supply applies for the scene that power supply security requirement is relatively high.
Peaking power source: It is mainly used to make up for the shortage of electricity supply. It applies for the power cuts scene.
Portable power source: It is generally designed as the form of power vehicle. And it is mainly used for the mobile work scene. Some portable power source also share the nature of emergency power supply.
Common types of diesel genset
There are many types of diesel generator set, which can be divided into the following types according to its sructure, control mode and protection function.
1) Basic type genset
2) Automatic starting genset
3) Micro control automation genset
Working environment requirements of diesel genset
Altitude: < 1000m
Ambient temperature: 5°C - 40°C
Relative humidity: <85% (25°C)
Longitudinal inclination when working: < 10°C
The engine room should be equipped with fire extinguisher. And maintainer and operator should know how to use it.