May. 06, 2022
Regardless of the size of the business, a backup diesel generator will always be an important addition to a business's power. For any business that needs stable and continuously reliable power, a plan B is essential to the business's power supply, that is equipped with one or more diesel generators. When you have backup power during a major power outage or disaster, you can ensure that your business essential services and systems can continue to operate.

Although industrial diesel generators come in different powers, today we focus on one of the larger ones, the 2420kw Yuchai diesel generator set.
Although industrial diesel generators come in different powers (which power is needed depends on the nature of the business), the 2420kw Yuchai diesel generator set is one of the larger models you can buy. Imagine a widespread power outage or a natural emergency, that's the size of a diesel generator that's best used in such dire situations, and a smaller machine isn't enough for the power level you need.
It is important to calculate the right sized engine, because if you use an engine that is too small or too large, you may face a series of problems. Ideally, look for a fast-powered 2420kw Yuchai diesel generator set that can start up and take on load within 10 seconds. The 2420kw Yuchai diesel generator set is ideal for utility peak shaving power plants (such as power plants), power management, distributed generation facilities, and peak shaving in large industrial or commercial locations.
Here are some specifications to look out for when looking for a 2420kw Yuchai diesel generator set: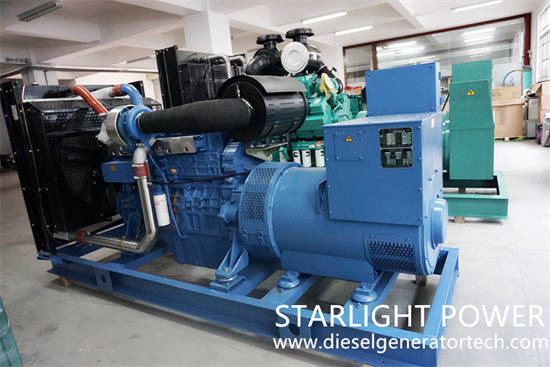 Ideally, the 2420kw generator can be a stationary diesel generator or a mobile diesel generator, as the name suggests, up to 2420kW. Often, if the location where power is required is uncertain, a generator like this is mounted on a trailer for maximum convenience and portability.
At the same time, the 2420kw Yuchai diesel generator set also has some other functions: automatic stop and start function, remote monitoring function, remote control function, and noise minimization.
If your generator powers a large-scale commercial operation, or is located in an area that could damage residential properties, opt for a silent box-type diesel generator, where noise and vibration are kept to a minimum.
To buy diesel generator sets, welcome to choose Jiangsu Starlight Power. Jiangsu Starlight Electricity Equipments Co.,Ltd. is a manufacturer of professional generators, diesel generator sets, Cummins generator sets, Volvo generator sets, etc. The company has advanced testing equipment, excellent production technology, professional manufacturing technology, perfect quality management system, and Strong R&D technical strength. It can provide 15KW-2500KW various specifications of universal, automatic, four protection, automatic switching, low noise and mobile, etc., high-quality, low-energy generating sets to meet customer power needs, and can also meet users' different voltages and different frequencies, as well as the power supply system of multiple units connected in parallel, welcome customers to inquire. For more details, please contact us with sales@dieselgeneratortech.com.