May. 05, 2022
The weather is gradually entering the summer, and the electricity consumption will also gradually increase. According to the policies of previous years, it is very likely that power outages or power rationing will occur again. Starlight Power reminds the majority of business friends that if you have not been equipped with diesel generator sets, now is the time to consider buying a diesel generator set in case of emergency, because no matter what industry, stable power supply is the key to the survival of the enterprise, and configuring a diesel generator as a backup power supply can avoid this dilemma, even if the market Power outages may occur in the power grid. Whether it is a short-term or long-term power outage, diesel generators will provide a stable and reliable power supply, thus ensuring the normal operation of the enterprise.

Buy diesel generators, choose Jiangsu Starlight Electricity Equipments Co.,Ltd., no matter what industry you are in, Jiangsu Starlight Electricity Equipments Co.,Ltd. can easily get temporary power solutions for your common power supply or emergency situations anytime, anywhere, and get 24/7 after-sales service.
So to make sure you get the right diesel generator for the job, check out our win-win checklist.
First of all, we only use well-known diesel engine brands at home and abroad, such as Yuchai, Shangchai, Weichai, Jichai, Volvo of Sweden, Cummins of the United States, etc., because they are the world's leading brands, which means that our engineers always have suitable spare parts, also means troubleshooting is easier to fix, resulting in less downtime.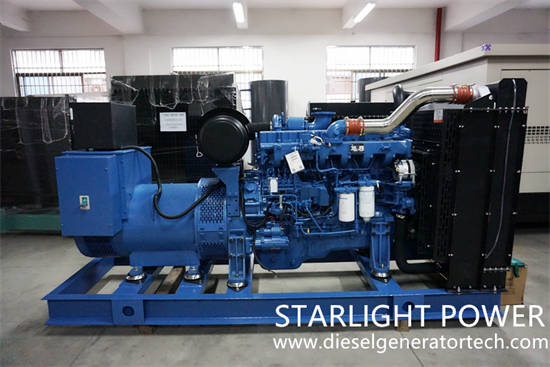 The high specification and quality of Starlight Power diesel generators also means that they are super fuel efficient, super quiet and combined to prevent fuel spills. We not only provide standard diesel generator sets, but also diesel generator sets with special power requirements ranging from 30KW-3000KW of various specifications, such as ordinary type, automatic, four-protection, automatic switching and three-remote monitoring, low-noise and mobile, automatic grid-connected system, etc. And Starlight Power also provide a series of matching products for diesel generators. So if you are looking for diesel generators, here is our range:
Silent diesel generators are ideal for sensitive locations where noise reduction is a concern. They are ideal for schools, shopping malls, hospitals, entertainment venues, banks, communities or other places with noise requirements.
High Voltage Generators: Ideal if you need a lot of power on construction sites or large infrastructure projects. These are backed by Starlight Power's highly qualified engineers, ensuring strict health and safety compliance is achieved 24/7.
Mobile trailer-type generator: A diesel generator set installed on the chassis of the car, with optional silent box, low center of gravity, safe braking, unique design, strong mobility and adaptability, often used for emergency power supply or remote Regional construction, operation power supply, so that you can flexibly supply power. With these, you can power your project anytime, anywhere without the bulky shipping for 1 large generator.
Starlight Power diesel generator sets are reliable in all locations and in all weather conditions, and only require regular maintenance according to the standard. If there is a problem, Starlight Power's engineers in branches and offices all over the country are on call to help you as soon as possible.
In addition, for professional unit management, Starlight Power's remote intelligent cloud service enables us to check the unit's related operating conditions and remotely operate the unit, and provide necessary remote diagnosis for any troubleshooting issues. Starlight Power can also use a GPS tracking service, which is essential for generators in hard-to-reach locations.
Starlight Power generator sets are also available with a range of auxiliary products to ensure you are in complete control.
Automated control systems: These units trigger or switch to a backup generator if the utility power fails.
Quiet box: It is convenient to use diesel generators in environments with strict noise requirements.
Mobile Trailer: Facilitates the use of diesel generators in different locations without having to re-install the diesel generator set.
No matter what industry you are in or what product you are operating, Starlight Power diesel generator set can provide you with a stable and reliable power supply at any time. If you are preparing to configure a backup power supply, then please call our team for on-site investigation, so that we can Assess your needs and find the right solution.
Founded in 1974, Jiangsu Starlight Electricity Equipments Co.,Ltd. is a wholly-owned subsidiary of Jiangsu Starlight Power Group. It is one of the earliest manufacturers of generator sets in China. Starlight Power has 64 sales and service departments, which provide users with long-term technical advice, free debugging, free maintenance, and free training services. Looking forward to your inquiry, for more details, please contact us with sales@dieselgeneratortech.com.