Oct. 15, 2019
Volvo TWD1645GE is a reliable, powerful and compact in-line 6 cylinder diesel engine. It's designed to power a wide range of stand-by and prime power generator sets.

This 16 litre diesel engine utilizes dual-stage turbochargers and heavy-duty steel pistons to provide excellent power density.
It features a proven combustion technology with high-pressure unit injectors, resulting in high fuel efficiency and low exhaust emission levels.
The engine also features a compact and low weight design that is well-balanced, providing smooth operation with low noise and vibration. It's designed for easily accessible service points.
A wide range of options is available, including a heavy-duty frame, cooling package and air-filter that will suit a variety of installations.
• High power density
• High fuel efficiency
• Low exhaust emissions - fulfills UNECE REG 96 Stage II
• Compact and low weight design
• Switchable between 1500/1800 rpm
• Suitable for a wide range of applications
50Hz/1500rpm

Prime Power

Standby Power

kWm

kWe

kVa

kWm

kWe

kVa

595

560

700

655

616

770

60Hz/1800rpm

Prime Power

Standby Power

kWm

kWe

kVa

kWm

kWe

kVa

619

582

727

681

640

800

Technical Data

Configuration and no. of cylinders

in-line 6

Displacement, l (in³)

16.12 (983.9)

Method of operation

4-stroke

Bore, mm (in.)

144 (5.67)

Stroke, mm (in.)

165 (6.50)

Compression ratio

16.8:1

Wet weight, engine only, kg (lb)

1810 (3390)

Wet weight, engine incl. cooling system, air filtration system and frame

kg (lb)

2767(6100)
Technical description

Engine and block

• Wet, replaceable cylinder liners

• Steel pistons for high durability

• Crankshaft induction hardened bearing surfaces and fillets with seven main bearings

• Case hardened and Nitrocarburized transmission gears for heavy duty operation

• Viscous type crankshaft vibration dampers to withstand single bearing alternator torsional vibrations

• Replaceable valve guides and valve seats

• Overhead camshaft and 4 valves per cylinder

Lubrication system

• Full flow oil cooler

• Full flow disposable spin-on oil filter

• Bypass filter with extra high filtration

Fuel system

• Electronic high pressure unit injectors

• Fuel prefilter with water separator and water-in-fuel indicator /alarm

• Fine fuel filter with manual feed pump and fuel pressure sensor




• Efficient cooling with accurate coolant control through a water distribution duct in the cylinder block.

Cooling system

• Dual-circuit

• Belt driven coolant pumps with high degree of efficiency

• Water-cooled charge air coolers

Turbo charger

• Efficient and reliable dual stage turbo chargers

• Dual charge air coolers

• Waste gate system for the high pressure turbo charger

Electrical system

• Engine Management System 2.3 (EMS 2.3), an electronically controlled processing system which optimizes engine performance. It also includes advanced facilities for diagnostics and fault tracing.

• The instruments and controls connect to the engine via the CAN SAE J1939 interface.

• Sensors for inputs such as: oil pressure, oil temp, boost pressure, boost temp, coolant temp, fuel temp, air filter pressure, water in fuel, fuel pressure and two speed sensors.

Control and monitoring

• The DCU2 control panel features engine control, monitoring, alarm, parameter settings and diagnostic functions. It also presents error codes in clear text.

Frame

• Heavy duty frame for minimized noise and vibration.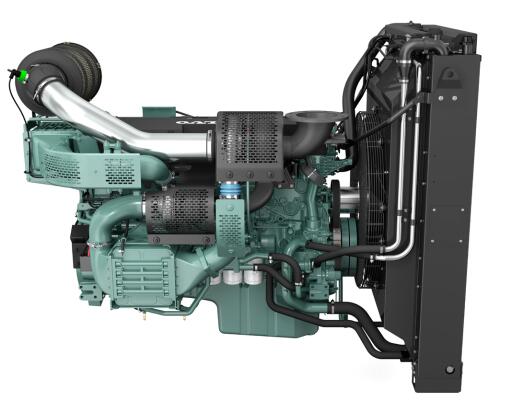 Rating guidelines
PRIME POWER rating corresponds to ISO Standard Power for continuous operation. It is applicable for supplying electrical power at variable load for an unlimited number of hours instead of commercially purchased power. A10 % overload capability for governing purpose is available for this rating.
STAND-BY POWER rating corresponds to ISO Standard Fuel Stop Power. It is applicable for supplying standby electrical power at variable load in areas with well established electrical networks in the event of normal utility power failure. No overload capability is available for this rating. Average power output over 24 h of operation shall not exceed 70% of emergency stand-by power. Engine operation up to 200 h of operation per year.
1 kW = 1 hp x 1.36
1 hp = 1 kW x 0.7355
Power standards
The engine performance corresponds to ISO 3046, BS 5514 and DIN 6271. The technical data applies to an engine without cooling fan and operating on a fuel with calorific value of 42.7 MJ /kg (18360 BTU/lb) and a density of 0.84 kg/liter (7.01 lb/US gal), also where this involves a deviation from the standards. Power output guaranteed within 0 to +2% at rated ambient conditions at delivery. Ratings are based on ISO 8528. Engine speed governing in accordance with ISO 8528-5.
Contact us to know about Volvo diesel generator price now!