Jan. 10, 2018
Starlight Perkins series diesel generator units apply diesel engines from Perkins Engines Co., Ltd. equiped with brushless self-excited AVR controlled generator, its power ranging from 24KW up to 1800KW. The series are well received in domestic and wilrd markets.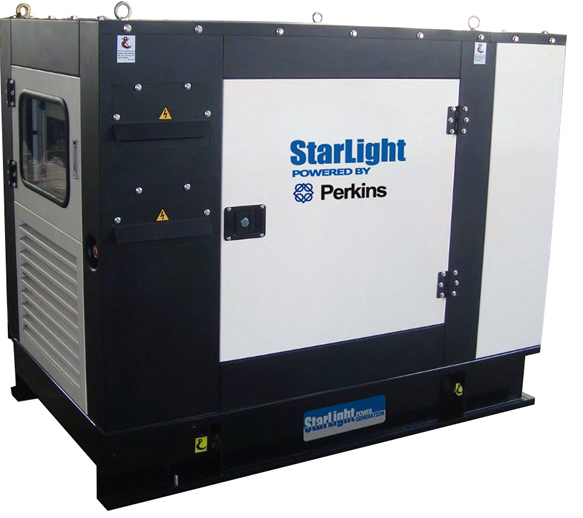 Perkins Company Introduction

British Perkins (Perkins) engine co., LTD is one of the world famous engine production and sales manufacturers with a long history. So far, it has provided the global with 15 million gensets ranging from 4 kw to 1940 kw;it currently has three production bases, with an annual production of 400,000 sets;the company establish two parts release center in Manchester, England and Singapore and set up more than 3500 service outlets worldwide, which provide worldwide customers with uninterrupted service throughout the year. As the world's leading manufacturer of Rolls-Royce, Perkins is committed to product quality, environment and economy. By strictly enforcing the ISO9001 and ISO14001 standard, the products have high emissions standards, high efficiency, high stability, high reliability, etc.
Product advantages of Perkins generators:

1. Excellent damping performance: optimization and design of the damping system based on dynamic computer simulations.
2. Advanced control system: control strategies of whole monitoring system based on the reliability design.
3. Green environmental protection: diesel gensets integrated with energy saving and low emission.
4. Low noise: exhaust and muting system is customized for each set.
5. Good performance: stable running, small vibration, low fuel consumption, low oil consumption, long running life and short overhaul and low noise.


Performance of Perkins generators


1. Electrical performance of Perkins generators:

1) In accordance with the standard GB2820 and ISO8528/3. Conforming to technical requirements for the YD/T502 communication diesel gensets of the post and telecommunications system.
2) Rated voltage:400/230V
3) Connection mode: three-phase four-wire
4) Frequency:50Hz
5) Rated power factor:0.8 (lag)
6) Radio interference suppression: comply with the provisions of VDE0875-N Class and GB2820 regulations


2. Standards of Perkins gensets:

1) In accordance with the provisions of the international standards GB/T2819 ISO8528, IEC34 etc.;
2) Rated output power of generator units accords with;
3) Altitude is less than 1,000 meters above sea level;
4) Environmental temperature 0 ℃ ~ 40 ℃;
5) Relative air humidity of 60%;
3. AC generators of Perkins gensets:
1) Excitation mode: brushless self-excitation
2) Insulation class: Class H
3) Level of protection:IP21 ~ IP23
4) Voltage regulation: automatic adjustment


4. Control boxes of Perkins generators:
There are different types of control boxes such as manual, automatic, remote monitoring and automatic intelligent types. Basic configuration includes voltmeter, ammeter, water thermometer, oil pressure gauge, preheat controller, emergency stop button, button, battery voltmeter, schedule, phase selector switch, etc.


Working principle of Perkins generators
After the clean air filtered by the air cleaner and the high pressure atomized diesel injected from the nozzle are fully mixed inside the cylinder of the diesel engine, the volume shrinks and temperature rises rapidly under the upward extrusion of the piston, then the ignition point of the diesel is reached. Thus the diesel is ignited, the mixed gas is in intense combustion, the volume rapidly expands and the piston is pushed downward, which is known as the "Work Done".Each cylinder does work in a certain sequence, and the thrust on the piston turns into the power promoting the rotation of the crankshaft after going through connecting rod, so as to drive the crankshaft rotation. When the crankshafts of the brushless synchronous ac generator and diesel engine are in co-axial installation, we can use the rotation of the diesel engine to drive the generator rotor, and use the 'electromagnetic induction' principle to drive the generator output induction electromotive force, then the closed load circuit will generate an electric current.



Maintenance of Perkins generators
1) We need to change the oil, clean, filterdiesel and filter air after diesel generator runs up to 60 hours.
2) We should regularly check the battery electrolyte and add electrolyte in a timely manner when necessary.
3) We should regularly check belt release situation, adjust the tensioning mechanism, and keep the state of tension.
4) During the cold season, we should open the oil heating and water heating switch to keep a certain temperature of genset, so as to ensure that diesel genset can be normally used.
Appearance requirements of Perkins generators:
1) Boundary size, installation size and connection size of diesel genset conform to the product design prescribed in the approved procedures
2) The welding of the sets should be solid, weld joint should be uniform, with no flaws like welding penetration, undercut, slag inclusion and air vent. The welding slag and flux should be cleared; the painting film should be uniform, without obvious crack and fall off;the coating shall be smooth,with no spots due to skip plating and no corrosion;the fasteners of the sets should be not loosen.
3) The electrical installation of the diesel genset should comply with the circuit diagrams, and each wire connection of the sets should have a clear sign of not easy off.
4) Diesel genset should have good grounding terminals.
5) Diesel genset shall have complete sign content.

Technical parameters of Perkins generators are as follows:
Genset Model

Output Power(KW/KVA)

Diesel Engine Model

Alternator Model

Rated Current(A)

Size

L×W×H(mm)

Weight(kg)

XG-10GF

10/12.5

403C-15G

STC-10

18

1400×477×840

350

XG-15GF

15/18.75

404C-22G

STC-15

27

1450×477×840

380

XG-20GF

20/25

1103A-33G

STC-20

36

1650×850×1250

850

XG-30GF

30/37.5

1103A-33TG1

STC-30

54

1720×850×1250

850

XG-50GF

50/62.5

1104A-44TG1

TFW2-50

90

2050×630×1150

1000

XG-75GF

75/93.75

1104C-44TG1

TFW2-75

135

2100×752×1300

900

XG-100GF

100/125

1104C-44TG2

TFW2-100

180

2300×752×1300

1100

XG-120GF

120/150

1006TAG2

TFW2-120

216

2630×780×1370

1360

XG-150GF

150/187.5

1106C-E66TAG4

TFW2-150

270

2800×900×1400

1500

XG-200GF

200/250

1306C-E87TAG6

TFW2-200

360

2870×900×1650

2350

XG-300GF

300/375

2206C-E13TAG2

TFW2-300

540

3150×950×1900

2400

XG-350GF

350/437.5

2306A-E15TAG1

TFW2-350

630

3300×1150×1950

3200

XG-400GF

400/500

2506A-E15TAG2

TFW2-400

720

3300×1150×1950

3200

XG-500GF

500/625

2806A-E18TAG1

TFW2-500

900

3300×1500×2100

3800

XG-640GF

640/800

4006-23TAG2A

TFW2-640

1152

4100×1700×2100

5800

XG-800GF

800/1000

4008TAG2A

TFW2-800

1440

4960×1990×2300

7200

XG-1000GF

1000/1250

4012-46TWG2A

TFW2-1000

1800

5300×2190×2450

9400

XG-1200GF

1200/1500

4012-46TAG2A

TFW2-1200

2160

5200×2240×2550

11500

XG-1500GF

1500/1875

4016TAG1A

TFW2-1500

2700

6800×2780×3500

12000

XG-1600GF

1600/2000

4016TAG2

TFW2-1600

2880

6800×2780×3500

12500
We supply Perkins generator from 50kw to 1600kw. For more Perkins generator, please visit the link below:
https://www.dieselgeneratortech.com/perkins/
We supply 3KW to 2200KW generator with multiple brands of generator set, such as: Cummins, Volvo, Deutz, Doosan Daewoo, MTU, Ricardo, Perkins, Shangchai, Weichai, Yuchai etc. The style of genset is varied, such as: container genset, trailer genset, portable trailer genset, soundproof genset, low noise genset, and silent genset, etc.
All our product can be customized, if you have any specific requirement, please contact us.
Email: sales@dieselgeneratortech.com
Or click Contact Us to drop us an inquiry directly.