Jul. 16, 2018
Diesel General Information
The fuel used as an energy source for compression ignition engines (diesel engines) is diesel, and diesel is divided into light diesel and heavy diesel.
The high speed diesel engine with full load speed above 2000rpm is used in automobile, tractor and construction machinery. The specification and performance of light diesel oil are introduced below. For convenience, light diesel oil is referred to as diesel oil.
Types of diesel
Diesel is divided into three grades of superior grade, first grade and qualified by quality. Each grade of diesel can be divided into 10th, 0th, -10th, -20th - 35th and -50. No. Six grades. No. 10 diesel indicates that its freezing point is not higher than 10 °C. For the rest, the specifications of diesel are shown in Table 3-1 on the next page.
Performance requirements for diesel fuel
In order to ensure the normal combustion of diesel oil in high speed diesel engine, the performance requirements of diesel oil are as follows:
1. Good combustibility, suitable cetane number, low spontaneous combustion point, complete combustion, good engine stability and no knock phenomenon.
2. Good evaporation performance, appropriate evaporation rate, larger proportion of light fraction, otherwise it will increase engine fuel consumption, wear and tear, and power loss.
3. The viscosity of diesel should be suitable, that is, it has good fluidity to ensure the lubrication of high pressure oil pump and the quality of spray atomization, and form a good mixture gas.
4. Low sulphur content to ensure that the engine is not corroded. Low sulphur content is one of the characteristics of domestic diesel oil in China.
5. Good stability, the formation of colloid in storage and combustion after the formation of carbon are less.
Cetane Ratio
The cetane ratio is an approximate quantitative value representative of the ignition performance of diesel in a diesel engine. It is measured in a standard engine test under specified conditions by comparison with a standard fuel, expressed as a volume percent of hexadecane in a standard fuel having the same ignition delay period as the fuel being measured.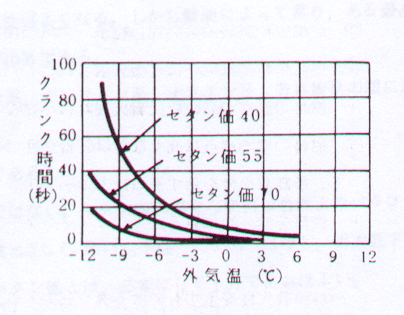 Ignition of Diesel Oil
The ignitability of diesel fuel is a heavy index indicator for evaluating the combustion performance of diesel. The ignition of diesel refers to the ability of diesel to self-ignite. The ignition of diesel is short. The ignition delay is short. After the fire is burned, the pressure in the cylinder rises gently, and the diesel engine works softly.
If the ignition delay period is long, the amount of diesel fuel injected into the combustion chamber increases, and the amount of mixture formed before the fire is large. Once the fire is on, excessive diesel fuel is on fire, which causes the pressure in the cylinder to increase rapidly, and the cylinder will Produces a strong shock effect, which will cause the engine crank and link mechanism to withstand excessive impact force, produce strong metal knocking sound, accelerate the wear of the parts and make the diesel engine difficult to start, resulting in a decrease in diesel engine power. Fuel consumption increases.
Selection of Diesel Oil for Generator Set
The structure, performance, working state and ambient temperature of diesel engine are the basis of diesel engine selection. As mentioned earlier, light diesel is used for diesel engines with full load speed higher than 960r/min. Diesel oil with wider fraction and heavier weight (from 150 ℃ to 400 ℃) can be used in precombustion chamber diesel and swirl chamber diesel engine, while diesel oil with narrower fraction and lighter weight (200 ℃ ~ 360 ℃) must be used in direct injection diesel engine. Of course, the most important factor to consider when choosing diesel oil is the ambient temperature of diesel engine.
There is a direct corresponding relationship between the cold filter point of diesel and the actual operating temperature, so when selecting diesel oil, the cold filter point of diesel oil should be selected as the minimum temperature of 10% of the local risk rate, and the diesel brand should be selected.
Usually we may refer to the following principles for selection.
Diesel 10 is suitable for use on a high speed diesel engine of genset with preheating equipment.
Diesel No. 0 is suitable for use in areas where the minimum temperature is above 4 ℃ with a risk rate of 10%;
-10 diesel fuel is suitable for use in areas where the minimum temperature of 10% risk rate is above -5 ℃;
-20 diesel fuel is suitable for use in areas where the minimum temperature of 10% risk rate is -5 ℃ ~ 14 ℃;
-35 diesel fuel is suitable for use in a region with a risk rate of 10% and a minimum temperature of -14 ℃ -29 ℃;
The-50 diesel fuel is suitable for use at a minimum temperature of 10% in a region of-29 ℃-44 ℃.
Matters Needing Attention in TheUse of Diesel Oil
1. Different grades of diesel can be blended, so there is no need to change seasons for special seasons. For diesel with higher freezing point, 10%~40% of cracked kerosene can be added to reduce its freezing point. For example, if 40% of cracked kerosene is blended in No. 0 diesel, No.-10 diesel can be obtained.
2. Diesel oil can not be mixed with gasoline, and when diesel oil is mixed with gasoline, the ignition performance will become worse, which leads to the difficulty of starting or even the failure to start. In order to improve the low temperature starting performance of diesel engine, the starting fuel can not be directly injected into the diesel fuel tank, so as to avoid causing air resistance or even fire.
3. Before the diesel oil is added to the fuel tank , it must be fully settled ( not less than 48 hours ) , carefully filtered to remove impurities , and ensure the purification so as to ensure that the precision parts of the diesel fuel supply system do not fail and prolong its service life .
4. When using barrel high freezing point diesel in winter, do not use open fire to avoid explosion.