Jan. 23, 2018
Company Introduction
Hebei Huabei Diesel Engine Co.,Ltd. (hereafter called as huachai) established in 1970. Huachai is affiliated with CHGC North General Power Group Co., Ltd. which is a professional manufacturer of diesel engine for dual purposes for military and commercial applications. The main products of company which are produced under the license of the Deutz AG, include B/FL413F/513 series air cooling diesel engine and BFM1015 series, TCD2015 series and HC4132 water cooling diesel engines with independent intelligent right and generator set.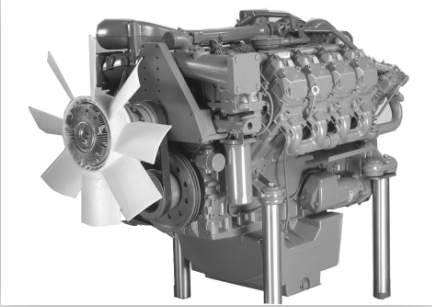 The company successively introduce B/FL413F/513 series air cooling diesel engines from 1979 to 1992, BFM1015 series water cooling diesel engine in 2002 and TCD2015serise diesel engine in 2005. the company is the sole manufacturer of BFM1015 series and TCD2015 series diesel engines with the authority from German Deutz in the world. Since 2007, the company has completed the research and development of series engines of 2015C National III, generator set, explosion-proof, nature gas and marine engine, and intensified the development according to market demand and therefore extended the market coverage.
The company can independently manufacture the key parts and components including diesel engine housing, cylinder liner, cylinder head, connecting rod, accessory bracket besides the complete machine, in which the connecting rod production line is in cooperation with Guangdong Sihui Connecting Rod Company with the production capacity of 100,000 connecting rods per year.
The company has complete casting, machine processing, stamping, heating treatment, assembly and test production lines. For the advantages of small volunme, high weight, low fuel consumption, low noise, perfect adaptability, high reliability and convenient maintenance, the Deutz engines produced quipment and generator set.
Huachai persists in the enterprise principle of "Reform, Development, Enterprise Revitalization and People rechening" and the operation guideline of "Base on military, interact between military and civil, Intensify the feature, Break through" to establish specialized large power diesel engine enterprise and provide high quality products and services for the customers via "Establish High Quality Power, Meet the Customer Demand".
Huachai Gensets Power Main Feature
For the advantage of high reliability, contentiously operating 24 hours at full load, adapting to the adverse working condition.
High Reliability
Huachai Power has been applied in the bridge erecting machine which used on the construction of High Speed Rail.
Huachai Power has been applied in the tower crane equipment which used on the construction of Shanghai Tower with a height of 632m.
Huahcai Gensets Power has been applied in the tower crane equipment which used on the construction of Shenzhen PINGAN IFC with a height of 660m. Up to now, it is the tallest building in China.
Ultra Low Fuel Consumption
In the field of iron mine, stone production, the cement mixing station, factories and generator sets, only the advantage of well fuel-efficient has created a huge benefits for the user.
Excellent Cold Starting Performance
For the CNGC military application, the introduction products have excellent cold starting performance, without the starting assistant, starting at -19℃, if starting assistant equipped, starting at -35℃.If the user has special requirements, we can achieve better cold starting performance.
Perfect Plateau Adaptability
Perfect plateau adaptability, satisfy the working condition at an altitude of 5000m.
Diesel Engines Introduction
TCD2015 Series
TCD2015 series water-cooled diesel engine have 6/8 cylinders with V-90° structure, is a new engine developed based on the Deutz Germany BFM1015 series water-cooled diesel engine. Not only have BFM1015 series water-cooled diesel engine's characteristics, but also improve fuel injection system, using Bosch EUP, to be more powerful (power arranged 240-500KW) and emission reached the Euro III standard.
HC6/8V132G Series
On basis of BFM1015CP diesel engine, the re-designed components of piston, supercharger, cylinder head and intake pipe and configured foreign advanced fuel/gas control system including throttle, mixer, fuel metering valve, high voltage coil, spark plug and high voltage line enable the smooth transmission from diesel engine to gas engine through calibration of test lab. The natural gas engines are used in the filed such as vehicles, construction machinery and generator set. It has the advantages of high economic performance, low noise and less emission in comparison with the diesel engine.
We supply Deutz diesel generator with Huachai engine. The power of generator set ranges from 24KW to 500KW. For more information, please visit:
https://www.dieselgeneratortech.com/deutz/