Jan. 09, 2018
Starlight Cummins series diesel generator sets are officially authorized products of the Cummins company. With better performance, better quality and more guaranteed services compared with similar products, they are products recommended by the Cummins Genset Department.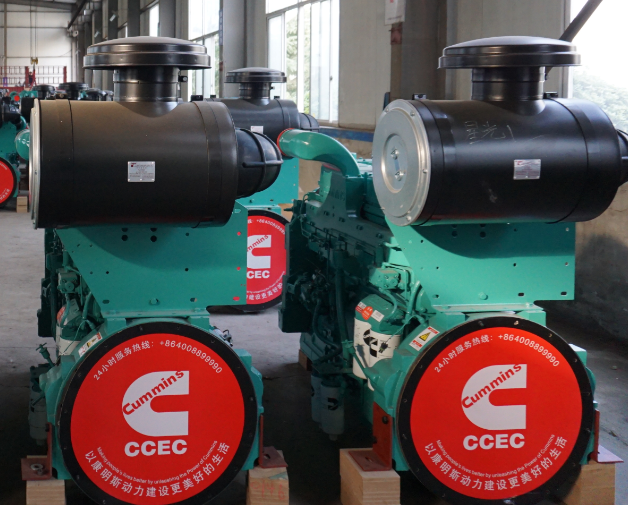 Brief introduction of Cummins company
Cummins is in the world largest company today in design, production and sales of diesel engine and compressed natural gas engines.Cummins has invested more than one hundred and forty million dollars in China, covering Dongfeng Cummins Diesel Genset and Chongqing Cummins Diesel Genset.Cummins own eight joint ventures and sole-funded manufacturing enterprises in China. Dongfeng Cummins produce B, C and L series diesel engines, and chongqing Cummins produce M, N and K series diesel engines.Products comply with ISO 3046, ISO 4001, ISO, IEC 34-1, 8525 GB1105, GB/T 2820, CSH 22 0530-2, VDE and YD/T 502-502 "Special Technical Requirements of Diesel Gensets Only for Communication Purposes" and other standards.
Advantages of Cummins generators/gensets:
They have a good quality, low fuel consumption, low noise, big output power and reliable performance. Their reliable stability, economy, power performance, durability and environmental safety is welcomed by customers at home and abroad, and they offer a warranty of the global "Three Gurantee". The engines of the Sino-US joint venture Dongfeng Cummins and Chongqing Cummins have small volume, light weight, low fuel consumption, high power and reliable work, and the spare parts supply and maintenance is convenient. They adopt electronic governor, with protection functions such as alarm and automatic parking for too high temperature in the cooling water, too low oil pressure or too high speed.
Product overview of Cummins generators/gensets
1) Design, production and testing of the gensets are in full compliance with national standard GB/T2820-97.
2) Equipped with Cummins engine. With advanced technology, reliable performance and long service life.
3) the excitation systems of generators enable the quick recovery of frequency fluctuation in any instantaneous loading.
4) Low power design of the generators minimizes the waveform distortion under nonlinear loads, and brings a good ability of starting motor.
5) Cummins compnay provide quality assurance for all series products of the company.
6) Cummins has built a professional service network all over the country, which provides after-sales services and supply spare parts for 24 hours a day.
Process introduction of Cummins generators/gensets:
1. Air intake and exhaust system of Cummins gensets

1) Use the hanger or brace to support the exhaust pipe and the supercharger
2) Bellows are strictly prohibited to act as elbow and the compensation of installation error
3) For sets over 200 kw, stainless steel bellows above 610 mm are used.
4) Gas pipes are in horizontal layout with a slope of 0.3-0.5%. The slope face the outdoor, and a drain valve is set at the lowest position.
5) The diameter short not be less than vent pipe during the configuration of engine exhaust pipe.
6) If the exhaust pipe must be bending upwards, the drainage bolt should be set up at the starting point of going up.
7) During the installation of multiple gensets, special attention should be paid to common exhaust pipes.

2. Cooling systems of Cummins generators

1) Air inlet should be set on the ends or both sides of generators, with the area 2.2 times greater than the tank area.
2) The air outlet area should be 1.5 times of water tank area, and the shutters and wind wall should be installed at the air outlets.
3) flexible duct flanges are used to connect to the water tank, so as to absorb displacement and vibration of the sets and prevent the spread of noise.
4) Hot air must be vented to the outside of the chanber through the air duct, and the duct area should be smoothly transitted from small to large values. If thereare curves in the air ducts, the guide plate must be installed in order to reduce the pressure loss.
5) when the environment temperature is higher than the design temperature, we should consider use it by redcuing the power.

3. Standard configuration of Cummins generators/genset

Engine: Cummins 4 stroke diesel engines
Generator: Stanford/marathon brushless AC generators
Control system: controllers dedicated for the sets with the microprocessor acting as the core
Start-up system: the engine adopts DC motor startup
Short circuit protection:MCCB air switch
Cooling system: online cooling tank that could satisfy the requirement of ambient temperature at 40oC
Filter system: Cummins engine oil, fuel oil and air filter
Attachment: accessories such as exhaust elbow, bellows, silencer
Installation of Cummins generators/generator
1. Chamber design of Cummins generator

1) The sets should be in horizontal layout, and they can be in longitudinal layout when they are limited by the building site.
2) When the chamber is adjacent to the control chamber, the outlet end of the generator and the cable trench should be close to the transformer chamber.
3) The battery should be close to the side of the start-up motor
4) The chamber should have enough inlets for fresh air. The duct of the hot air and smoke should be stretched out to the outdoor, air inlet should be placed by the side of the motor, and theair outlet should be installed in the side of the tank.
5) The chamber should adopt comprehensive control measures for the noise removal of sets and sound insulation of chambers.
2. Processing method in noise reduction of Cummins gensets

A. Gensets are installed on the concrete floor.

1) We should pour a reinforced concrete base over the floor.

2) The concrete base should pass one month pressure test of over 173 kpa.

3) The concrete base should be at least 150 mm above the floor, with an extension of at least 150 mm per side laong the chassis of the set,

4) The cement base should be embedded with the "J" or "L" type anchor bolt.

B. Gensets are fixed on the chassis type fuel tank:

1) The shock absorber must be equipped between engine and fuel tank.

2) The structure and strength of the tank must be able to support static load and dynamic load of the sets.

3) We must keep a certain distance between the bottom of the tank and the ground, so as to facilitate the maintenance.

3, The installation of sets is based on vibration isolation

Product parameters of Cummins genset:
Genset

Model

Output Power (KW/KVA)

Rated Current

Diesel Engine Model

Alternator Model

Size

L×W×H(mm)

Weight(kg)

XG-30GF

30/37.5

54

4BT3.9-G2

TFW2-30-4

2030×838×1245

800

XG-50GF

50/62.5

90

4BTA3.9-G2

TFW2-50-4

2030×838×1245

889

XG-75GF

75/94

135

6BT5.9-G2

TFW2-75-4

2800×1050×1550

1520

XG-100GF

90/112.5

180

6BTA5.9-G2

TFW2-100-4

2800×1050×1550

1800

XG-120GF

150/187.5

216

6BTAA5.9-G2

TFW2-120-4

2800×1050×1550

1800

XG-150GF

150/187.5

271

6CTA8.3-G2

TFW2-150-4

2800×1050×1550

1900

XG-200GF

200/250

360

6CTAA8.3-G2

TFW2-200-4

3300×1020×1800

3200

XG-200GF

200/250

360

MTA11-G2A

TFW2-200-4

3300×1020×1800

3200

XG-200GF

200/250

360

6CTAA8.9-G2

TFW2-200-4

3100×1020×1800

3000

XG-250GF

250/312.5

450

MTA11-G3

TFW2-250-4

3600×1020×1800

3400

XG-300GF

300/375

540

NTA855-G2A

TFW2-300-4

3400×1100×1730

3500

XG-350GF

350/437.5

630

NTAA855-G7A

TFW2-350-4

3600×1200×1850

4200

XG-400GF

400/500

720

KTA19-G3

TFW2-400-4

3600×1200×1850

4400

XG-450GF

450/562.5

810

KTA19-G4

TFW2-450-4

3600×1200×1850

4400

XG-500GF

500/625

900

KTAA19-G6A

TFW2-500-4

3700×1400×1850

4600

XG-550GF

550/687.5

990

KTA38-G2

TFW2-550-4

4400×1450×2100

7300

XG-600GF

600/750

1080

KTA38-G2

TFW2-600-4

4600×1900×2310

8300

XG-800GF

800/1000

1140

KTA38-G2A

TFW2-800-4

4600×1900×2310

8800

XG-850GF

850/1062.5

1530

KTA38-G5

TFW2-850-4

4600×1900×2300

9200

XG-1000GF

1000/1250

1800

KTAA38-G9A

TFW2-1000-4

5600×1900×2310

8800

XG-1200GF

1200/1500

2160

KTA50-G3

TFW2-1200-4

5600×1900×2310

9200
For more technical parameter, power range or more details of Cummins generator, please visit:
https://www.dieselgeneratortech.com/cummins/
We supply 3KW to 2200KW generator with multiple brands of generator set, such as: Cummins, Volvo, Deutz, Doosan Daewoo, MTU, Ricardo, Perkins, Shangchai, Weichai, Yuchai etc. The style of genset is varied, such as: container genset, trailer genset, portable trailer genset, soundproof genset, low noise genset, and silent genset, etc.
All our product can be customized, if you have any specific requirement, please contact us.
Email: sales@dieselgeneratortech.com
Or click Contact Us to drop us an inquiry directly.