Sep. 01, 2022
If your business is not equipped with diesel generators, I believe you must have a question in your mind, should I buy a generator? Today, Jiangsu Starlight Electricity Equipments Co.,Ltd. will tell you some reasons and benefits of purchasing diesel generator sets. The benefits of purchasing diesel generator sets are huge and far-reaching. Regardless of the situation, they ensure that the power supply remains constant. Therefore, if you have not invested in the purchase of a backup diesel generator, how can you ensure the normal production and operation of the company under the background of power supply cuts? To help you decide whether you should invest in a generator set and whether you can benefit from it, Jiangsu Starlight Electricity Equipments Co.,Ltd. will discuss with you the top 8 reasons to buy a diesel generator.

1. The diesel generator starts to work after a few seconds of power failure.
The standby diesel generator set, coupled with an ATS automatic transfer switch, will detect the moment when a power failure occurs, without any complicated operation or manual activation, the level of interruption will be kept to an absolute minimum.
2. Get peace of mind.
The peace of mind that comes with owning a diesel generator is actually a very important thing. No one wants to experience the hassle of a power outage, and you'll know that if your business has a diesel generator power system installed, you'll never have to.
3. No costly productivity drops.
When a power outage strikes, businesses can be more or less paralyzed until mains power is restored. This is because most of the roles and processes involved in a modern business rely on electricity in one way or another. This then means a huge financial hit to the business, as productivity will simply drop to zero. However, this will not be the case if you install a solid and reliable fuel efficient diesel generator set to solve the problem.
4. Keep food fresh and safe.
Whether you are the owner of a shop, kitchen, restaurant, catering business, or simply a home owner, food in your refrigerator and freezer needs to stay fresh. The last thing you need is a prolonged power outage and no backup power to preserve inventory. This means that food is likely to go to waste. However, if you install a diesel generator set, it's immediately operational and your refrigerator, freezer, and all other equipment in your home or business will be back up and running in seconds.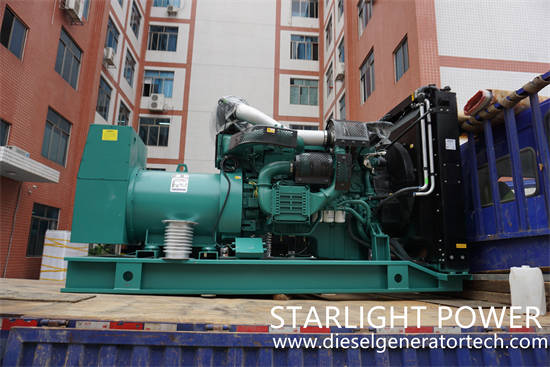 5. Keep in touch.
Communication is a major concern for many, and this applies to homeowners and businesses. However, this isn't always possible when you don't have power. So one of the main benefits of a diesel generator is that it allows you to keep these critical lines of communication open.
6. Keep safety systems on during power outages.
The security systems businesses rely on also often fail when power goes out. This is a significant risk because businesses are vulnerable to break-ins and theft in the event of a power outage. But if business owners choose to install generators that can take immediate action and get those security systems back up and running, criminals won't be able to get away easily.
7. Flood control.
Power outages can also affect the sump pump no longer working. This is a real risk if you rely on pumps to keep your home or business from flooding. But with diesel generators for backup power, this risk is easily avoided.
8. Backup power may be required at the least unexpected time.
You never know when power outages will happen, and they usually happen at the most unexpected and inconvenient times. Therefore, it is crucial to be prepared for these situations with one or more powerful generators you can rely on. So, if you haven't already, that's definitely something you should seriously consider.
Jiangsu Starlight Electricity Equipments Co.,Ltd. is one of the earliest manufacturers of generators and diesel generator sets in China. The company was established in 1974 and the company occupies an area. With an area of 86,000 square meters and a building area of 45,000 square meters, it has 64 sales and service departments across the country to provide users with one-stop service of design, supply, debugging and maintenance at any time. Welcome customers to come to consult and visit. Looking forward to your inquiry, please send email to us for details sales@dieselgeneratortech.com.