Apr. 02, 2020
750kw Shangchai Diesel Generator Set is assembled by Starlight Power manufacturer. The genset is equipped with Shangchai engine model SC33W1150D2, Stamford alternator HCI 634H1 and Deep Sea controller DSE7320MKII.
1. Diesel generator set main technical data
Manufacturer: Jiangsu Starlight Electricity Equipments Co.,Ltd.
Prime/standby output power: 750kw/825kw
Type: Open type or Silent type
Speed/frequency: 1500rpm/50Hz
Voltage: 230/400V or as your required
Noise level: open type: 100dBA at 7 meters, soundproof type: 75dBA at 7 meters.
Steady state voltage regulation rate: ≥±2.5%
Transient voltage regulation rate: ≤+25% , ≥-15%
Voltage stability time : ≤3s
Voltage fluctuation rate: ≤ ±0.5%
Frequency stability time: ≤6s
Frequency Waving: ≤1.5%
Steady state frequency regulation rate: ≤0.5%
Transient frequency regulation rate: ≤ ±5%
Frequency volatility rate: ≤1%
Accessories include battery(maintenance free), silencer, shock-reducing rubber, user's operation and maintenance manual etc.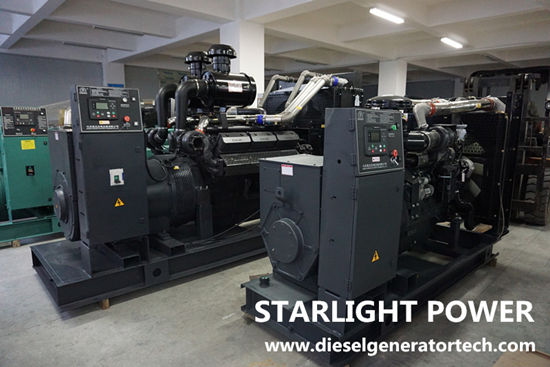 2. Diesel engine SC33W1150D2 data
Manufacturer: Shanghai Diesel Engine Co.,Ltd.
Prime/standby power: 782kw/820kw
Speed: 1500rpm
The engine performance is as per GB/T2820, ratings are based on GB/T1147.1.
Prime power is available for an unlimited number of hours per year in a variable load application. The permissible average power output over 24 hours of operation shall not exceed 80% of the prime power rating.
Standby power is available in the event of a utility power outage or under test conditions for up to 200 hours of operation per year.
The permissible average power output over 24 hours of operation shall not exceed 80% of the standby power rating.
SPECIFICATIONS
Engine model: SC33W1150D2
Engine Type:line, 4 strokes, 6 cylinder(wet liner), direct injection, water-cooled, Turbo charged ,air-to-air intercooled.
Bore × stroke: 180(7.09) × 215(8.47) mm(in.)
Displacement: 32.8(2001) lit.(in3)
Compression ratio:15 : 1
Firing order:1-5-3-6-2-4
Injection timing:22°BTDC
Rotation: Counter clockwise viewed from Flywheel
FUEL SYSTEM
Injection pump:Longkou in-line "P11" type
Governor:Electric type
Feed pump: Mechanical type
Injection nozzle Multi hole type
Opening pressure:290kg/cm2 (4125 psi)
Fuel filter:Full flow, cartridge type
Used fuel: Diesel fuel oil
LUBRICATION SYSTEM
Lub. Method:Fully forced pressure feed type
Oil pump:Gear type driven by crankshaft
Oil filter:Full flow, cartridge type
High level: 75 L ( 19.8 gal.)
Low level: 50 L ( 13.2 gal.)
MECHANISM
Type:Over head valve
Number of valve: Intake 1, exhaust 1 per cylinder
Valve lashes at cold: Intake 0.4mm (0.0158 in.)
Exhaust: 0.45mm (0.0177 in.)
COOLING SYSTEM
Cooling method:Fresh water forced circulation
Water capacity:56L ( 14.78 gal.)--Engine only
Heat rejection to CAC: 49.1kcal/sec @1,500 rpm
Pressure system Max. 0.5 kg/cm2 ( 7.11 psi)
Water pump: Centrifugal type driven by belt
Water pump Capacity: 1150L(303.6gal.)/min
Thermostat: Wax–pellet type restrictions, opening temp. 77°C Intake system 3kPa initial, full open temp. 90°C 6 kPa final
Cooling fan:Blower type,iron Exhaust system 11 kPa max. 1371 mm diameter, 8 blades.
Cooling air flow:20.82 m³/s
ELECTRICAL SYSTEM
Charging generator: 28V×55A in.
Voltage regulator: Built-in type IC regulator
Starting motor: 24V×11kW
Battery Voltage: 24V in3
Battery Capacity: 200 AH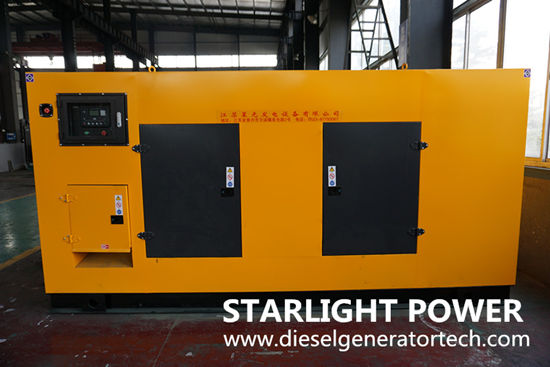 3.Alternator data
Model: Stamford HCI 634H1
Manufacturer: Cummins generator Technology(China) Co.,Ltd.
Alternator Capacity:937.5kva
Speed: 1500rpm
Voltage: 230/440V or as your required
Protection: IP23
Overload: (PRP)110% load can run 1 hour
Excitation mode: Brushless and self-exciting
Voltage Regulation: AVR automatic voltage regulation
Number of phase and access act:3-phase 4-wire, Neutral grounding
Insulation class: H/H
Alternator Efficiency:95%
Voltage regulation, steady state: ≤±1%
4.Control panel data
Model: Deep Sea DSE7320MKII( Auto Mains (Utility) Failure Control Module)
Manufacturer: Shenzhen Haiway Technology Co.,Ltd.
The DSE7320 MKII is a powerful, new generation Auto Mains (Utility) Failure genset control module with a highly sophisticated level of new features and functions, presented in the usual DSE user-friendly format. Suitable for a wide variety of single, diesel or gas Gen-set applications. Please see details attached datasheet document and manual.
Above is technical specifications of 750kw Shangchai diesel genset, we also have other brands diesel engine and alternator, if you plan to purchase diesel generators, welcome to contact us with your requirements, we will give good quality, best price and service. Our email sales@dieselgeneratortech.com.