Aug. 14, 2023
The lubricating oil can effectively reduce the wear between the parts of the diesel generator set during operation. However, after a period of use, the lubricating oil will deteriorate due to the pollution of mechanical impurities and dust from the outside, the waste gas moisture particles produced by fuel combustion, the metal scraps from the wear of running parts, and the carbon deposits produced by lubrication oxidation polymerization. Guangxi Dingbo Power Equipment Manufacturing Co., Ltd. the manufacturer of diesel generator, suggests that users can take the following six measures to effectively mitigate the harm caused by the deterioration of lubricating oil.

1. Use qualified lubricating oil. The good or bad quality of lubricating oil is closely related to its viscosity, cleanliness and dispersion, anti-oxidation and anti-corrosion. The quality of lubricating oil affects whether it is easy to deteriorate.
2. The maintenance of lubricating oil filter and air filter shall be strengthened. Clean the filter on time as required. In dusty areas, shorten the time for cleaning and oil change. Check the filter element regularly and replace it in time. The filter element should be flat and close, so as to avoid increasing the gap, reducing the filtering effect and causing deterioration of the lubricating oil.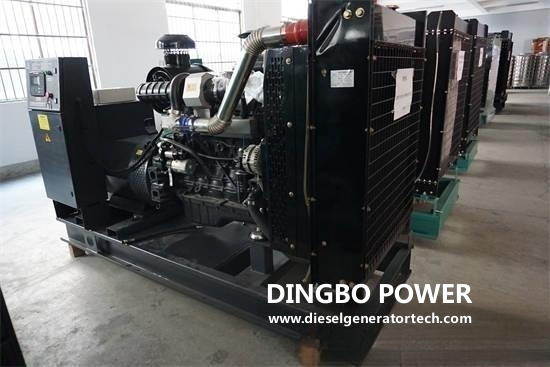 3. Check the crankcase ventilation device of diesel generator set to ensure it is smooth. Prevent moisture and carbon dioxide from entering the lubricating oil, forming sediment and accelerating deterioration.
4. Timely repair the cylinder and piston of the diesel generator set to ensure their normal operation. If the cylinder is excessively worn, the working condition of the engine will become worse, and the fuel will leak into the crankcase, which will accelerate the deterioration of the lubricating oil.
5. The diesel generator set shall maintain certain oil temperature, water temperature and oil pressure during operation. Avoid oxidation or precipitation of lubricating oil.
6. Clean the lubricating system regularly. The lubricating system of the diesel generator set shall be cleaned regularly to avoid contamination of the lubricating oil and deterioration.
Lubricating oil plays an important role in the operation of diesel generator set, but users need to consider the easy deterioration of lubricating oil, and usually take effective measures to alleviate the deterioration of lubricating oil. I hope the above six methods can help you.
Guangxi Dingbo Power Equipment Manufacturing Co., Ltd. is a diesel generator set factory integrating product development, production, sales and installation. The company has successfully developed a series of diesel generator sets with high-tech technology, and has formed industrial production. The main products are: silent series, mobile trailer series, container series diesel generator sets. For more details, please contact us with sales@dieselgeneratortech.com.