Dec. 17, 2021
Diesel generator set is a kind of relatively expensive equipment. Operators must undergo formal training during operation. In recent years, accidents have occurred frequently due to the failure of diesel generator set operators to follow safety regulations. For this reason, Jiangsu Starlight Power is deeply distressed. In order to effectively avoid some accidents, users must take safety precautions during installation and operation.

1. Strictly follow the manufacturer's instructions.
Starlight Power recommends that users always strictly abide by the manufacturer's recommendations and instructions when operating diesel generator sets. Refueling and regular maintenance are arranged by qualified professionals. If you find any defect or damage on the diesel generator set, please call the inspector immediately.
Regular maintenance will ensure that your diesel generator set runs at maximum efficiency and is used continuously as much as possible. It can also ensure safety and allow time for accident prevention in the event of any failure.
2. Keep the area around the diesel generator clean and tidy.
Diesel generator sets need sufficient ventilation to properly discharge exhaust gas. The engine room should have a suitable exhaust gas exhaust system to ensure that the exhaust gas of the engine is discharged outside. It is necessary to check the exhaust gas exhaust system for leaks. When there is exhaust gas in the diesel generator room, the doors and windows should be opened to discharge the exhaust gas before entering the house to prevent the carbon monoxide in the exhaust gas from poisoning people.
3. Take all appropriate electrical precautions.
When installing or servicing diesel generators, make sure that all power supplies, battery cables, and other electrical components are turned off and disconnected. All wires, cables and terminals must be properly insulated. Make sure they are the current carrying capacity recommended by the manufacturer. Do not allow water to contact electrical equipment to avoid electric shock.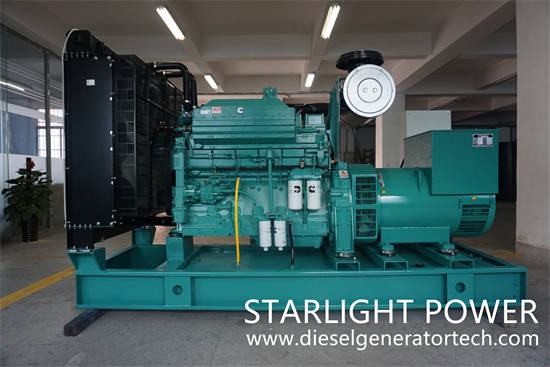 4. No smoking.
Smoking around diesel generators is extremely dangerous and can cause potentially fatal explosions. Do not smoke around the fuel system because they use combustible materials that are easy to ignite. Before touching or refueling, be sure to turn off the diesel generator and allow the engine to cool down. In an emergency, please place a fire extinguisher nearby.
5. Always wear protective equipment.
Gloves and goggles must be worn when using diesel generators. Avoid wearing jewelry, loose clothing or other obstructive items. Keep long hair tied behind your head or wear it in a hat. Never use diesel generators alone. Partners will ensure that safety measures are taken and pay attention to any potential hazards.
The above are five important safety items that Jiangsu Starlight Power has to keep in mind when operating diesel generator sets for you. I hope that users must remember. Jiangsu Starlight Power recommends that you read more for safe use after purchasing diesel generator sets. Standardize the guidance letter, which can effectively avoid some accidents.
Jiangsu Starlight Electricity Equipments Co.,Ltd. is a manufacturer of professional generators, diesel generator sets, Cummins generator sets, Volvo generator sets, etc. The company has advanced testing equipment, excellent production technology, professional manufacturing technology, perfect quality management system, and Strong R&D technical strength. It can provide 15KW-2500KW various specifications of universal, automatic, four protection, automatic switching, low noise and mobile, etc., high-quality, low-energy generating sets to meet customer power needs, and can also meet users' different voltages and different frequencies, as well as the power supply system of multiple units connected in parallel, welcome customers to inquire. For more details, please contact us with sales@dieselgeneratortech.com