Oct. 09, 2021
The main sources of lubricant consumption for diesel generators include piston ring-liner systems, turbochargers, valve stems and crankcase ventilation. Lubricant consumption is also affected by engine operation, such as transients and lubricant formulations. By controlling the consumption of lubricating oil, the particulate matter emitted by diesel engines is significantly reduced. In an engine equipped with a complex aftertreatment system, the control of lubricating oil consumption is even more critical than simply reducing the particulate emissions from the engine.

Lubricating oil consumption can have a significant impact on many aspects related to engine emissions, performance and maintenance of diesel generators. In diesel engines that adopt exhaust gas aftertreatment, lubricating oil will have many negative effects on the aftertreatment system and components. The following is a list of some reasons for controlling lubricating oil consumption by Starlight Power.
Lubricant consumption control.
1. Reduce the maintenance cost of diesel generators.
Replacing the oil consumed by the diesel generator is an additional maintenance item that will increase the maintenance cost of the engine. In some cases, excessive oil consumption can result in shortened oil change intervals. Lubricating oil consumption also affects the rate of deposit formation in the engine.
2. Reduce emissions.
Lubricating oil will increase engine exhaust emissions. In particular, lubricants may be an important source of:
(1) Hydrocarbon and carbon monoxide emissions, especially in small engines.
(2) PM total mass and particle number emissions.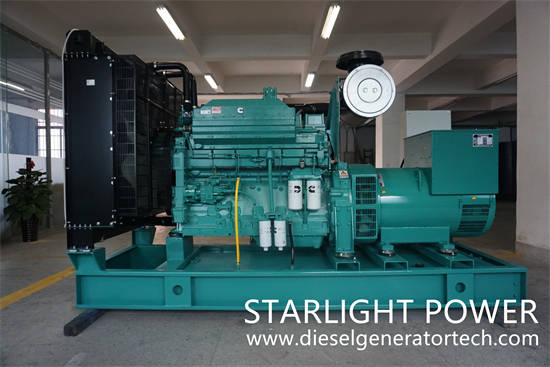 3. Reduce the impact on the cost and performance of the post-processing system.
The ash accumulation of lubricating oil consumption can have a significant impact on the diesel particulate filter (DPF). Most of the ash accumulated in the DPF is due to the lubricating oil consumed by the engine. Keeping lubricating oil consumption low allows:
(1) Due to the lower dust accumulation rate, the diesel particulate filter installed on the engine is smaller.
(2) Less frequent regeneration (and fuel economy loss) to avoid excessive pressure drop.
(3) Less deterioration of DPF ceramic substrate. Excessive accumulation of petroleum-derived hydrocarbons in DPF may also lead to uncontrollable regeneration and subsequent DPF damage.
The design of all emission control catalysts must take into account the loss of catalyst activity. This loss is due to exposure to petroleum-derived catalyst poisons. In the case of SCR catalysts, it is exposure to petroleum-derived hydrocarbons.
All diesel generator manufacturers understand the need to provide low fuel consumption products. However, ensuring that diesel generator manufacturers and their component suppliers take all necessary steps to achieve this goal is a major challenge. Although technical knowledge exists to enable engineers to understand the technology needed to design low fuel consumption products, in addition to acquiring technical knowledge, countless other steps must be successfully implemented to mass-produce diesel generators with consistent and reliable low fuel consumption.
Negligence in the design process, selection of materials with insufficient wear properties, problems in production quality control, and unexpected operating conditions are just a few of the reasons that may lead to excessive fuel consumption of the product. In some cases, the source of the problem may have nothing to do with engine lubrication, but through a series of events, it will eventually lead to excessive fuel consumption. Therefore, the scope of the challenge to produce a consistent and reliable low-fuel consumption diesel generator is obvious. Do you want to buy a diesel generator with low fuel consumption? Please contact Starlight Power.
Jiangsu Starlight Electricity Equipments Co.,Ltd. is one of the earliest manufacturers of generating sets in China. It has first-class testing equipment, advanced production technology, professional manufacturing technology, perfect quality management system, and strong R&D technical strength. It can provide 3KW-2500KW various specifications of universal, automatic, four protection, automatic switching, low noise and mobile, etc., high-quality, low-energy generating sets to meet all customers' power needs, and can also meet users' different voltages and different Frequency requirements, as well as the parallel-connected power supply system of multiple units, use excellent talents to build excellent enterprises, create excellent products, create excellent services, and strive to build excellent domestic enterprises. For more product details, please contact us with sales@dieselgeneratortech.com