Jun. 21, 2022
In the industrial environment, the diesel generator can only provide the necessary power consumption for the necessary machinery and equipment when it works smoothly and efficiently. However, when applying industrial diesel generators, pay attention to some difficult problems to prevent failures.

Neglecting maintenance is the most common problem with diesel generators. As we all know, in addition to protective maintenance, if the damage condition of each component of the diesel engine is not checked, it is likely to cause problems. The maintenance of diesel generators is an important prerequisite for improving the working efficiency of diesel generators. The maintenance plan is formulated in accordance with the proposals of the manufacturer and the agent, and generally includes daily maintenance and maintenance of diesel generators for half a year or a year. A suitable generator repair program includes this year's load inspection. In diesel generators, igniting unburned fuel, oil, and carbon removes moisture build-up in the cylinders and exhaust system.
It performs grinding and inspection of equipment fuel and refrigeration systems. The power supply system and load are not appropriate, and the selection of diesel generator models is unscientific. Whenever only the diesel generator is running, a minimum 35% load capacity must be used. I often encounter customers saying that a large number of machines and equipment will be added soon. Unfortunately, if this doesn't happen quickly, the diesel generator you just bought may be inefficient and more likely to be damaged.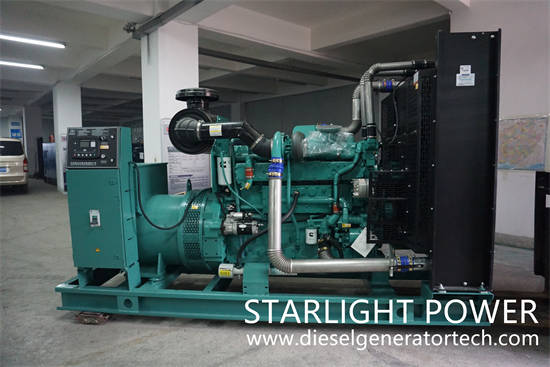 It is often caused if the diesel generator is not operating enough under sufficient load. The easiest way to solve the difficulty of the generator set is to maintain it frequently. The key to diesel generators is to sign a service project contract for the planned scheme with the generator manufacturer. We will cooperate with the agents of diesel generator manufacturers to introduce reasonable operation methods in detail to ensure that the appropriate load is applied on time. We need to further master how to avoid the failure of general diesel generators, and maximize the service life of diesel generators, while reducing fuel consumption and operating costs.
Jiangsu Starlight Electricity Equipments Co.,Ltd. is an OEM partner of Shangchai for many years. It has more than 40 years of experience in the production and manufacturing of diesel generator sets. It can provide users with various specifications of 15KW-2500KW. And other high-quality, low-energy generating sets to meet all customers' power needs. In addition, it can also meet the requirements of users with different voltages and different frequencies, as well as the power supply system of multiple units connected to the network. There are 64 sales and service departments nationwide, providing long-term technical consultation, free debugging, free maintenance, and free training services for users. Welcome contact us by email sales@dieselgeneratortech.com.