Mar. 20, 2020
250kw diesel generator set is assembled by Jiangsu Starlight Electricity Equipments Co.,Ltd. in China, our factory was founded in 1974, as one of the biggest supplier, we have focused on high quality generators for more than 43 years.

1.General Features of the 250kw diesel genset
All qualified generator sets are subjected to a comprehensive performance test which includes 50% load, 75% load, 100% load, 110% load and to check, verify that all control systems, alarm and shut-down protection.
Equipped with battery charger and 24V high performance maintenance-free lead-acid starting batteries and connecting cables.
Stainless galvanized zinc plates with strong corrosion-proof.
Vibration isolators between the engine/alternator and base frame.
Equipped with industrial silencer and flexible exhaust hose.
Designed to comply with ISO8528/GB2820.
Powered by Cummins engine NTA855-G1 and Stamford alternator HCI444C1
Water jacket preheater, oil heater and double air cleaner, etc. are available.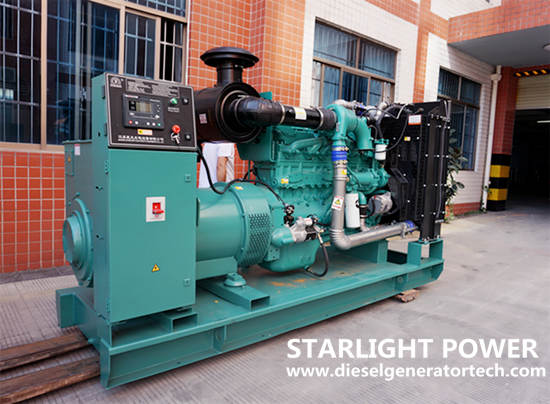 2.250kw Cummins Generator Technical Specifications
Prime power/capacity:

250kw/312.5kva

Engine make:

Cummins

Standby power/capacity:

275kw/344kva

Engine model:

NTA855-G1

Alternator made:

Stamford

Control panel:

SmartGen

HGM6110

Alternator model:

HCI444C1

Speed/frequency:

1800rpm/60Hz

Voltage:

220~480V

Noise level

open type:

100dBA at 7 meters

Start up time:

5~6s

soundproof type:

75dBA at 7 meters

Voltage Regulation:

≥±5%

Sudden Voltage Warp (100% Sudden Reduce):

≤+25%

Sudden Voltage Warp (Sudden Increase):

≤-20%

Voltage Stable Time (100% Sudden Reduce):

≤6s

Voltage Stable Time (Sudden Increase):

≤6s

Frequency Recovery Time(100%Sudden Reduce):

≤6s

Frequency Regulation:

≤5%

Voltage Stable Time (100% Sudden Reduce):

≤5s
3.Cummins diesel engine technical data

Prime power/capacity:

287kw/358.75kva

Engine Model:

NTA855-G1

Standby power/capacity:

317kw/396.25kva

Manufacturer:

Cummins( CCEC China)

Speed:

1800rpm

Cylinder Arrangement:

In-line

Cylinder quantity:

6

Cycle:

4

Aspiration:

Turbocharged and After-cooled

Displacement:

14L

Bore x Stroke :

140×152mm

Compression Ratio:

14.5:1

Type Injection System:

Direct injection Cummins PT

Friction Energy Output:

44kw

Piston Speed:

9.1 m/s

Total Lubrication System Capacity:

38.6L

Coolant Capacity:

49.2L

Starter motor:

DC24V

Fuel Consumption at 100% load:

74 L/h

75% load

56L/h,

50% load:

40L/h
4.Alternator technical specifications

| | | | |
| --- | --- | --- | --- |
| Alternator model | HCI444C1 | Exciter type | Single bearing, Brushless,Self-excited |
| Alternator manufacturer | STAMFORD | Rated output prime power | 312.5KVA |
| Rated speed | 1800 rpm | Number of phase | 3 |
| Rated frequency | 60Hz | Rated voltage (Available with custom requirements) | 400/230V |
| Power factor | 0.8lag | Insulation grade | H |
| Voltage regulation NL-FL | ≤±1% | Protection grade | IP23 |
(PS: alternator options: Leroy Somer, Engga, Marathon, Siemens, Shanghai Kepu, as well as our own brand Starlight)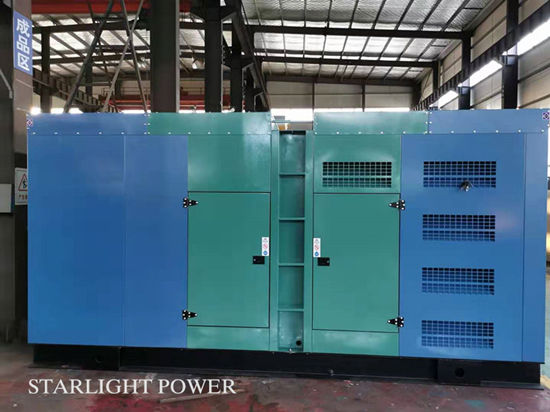 5.Control panel technical specification
SmartGen HGM6110 automatic controller, integrating digital, intelligent and network techniques, is used for automatic control and monitoring system of genset. It can carry out functions of automatic start/stop, data measurement, alarm protection and three ―remote‖ (remote control, remote measure and remote communication). The controller uses LCD display, optional display interface including Chinese, English, Spanish, Russian,Portuguese, Turkish, Polish and French with easy and reliable operation.
Mains

Generator

Load

Line voltage (Uab, Ubc, Uca)

Phase voltage (Ua, Ub, and Uc)

Frequency HZ

Line voltage

(Uab, Ubc, and Uca)

Phase voltage

(Ua, Ub, and Uc)

Frequency HZ

Current IA, IB, IC

Active power kW

Reactive power kvar

Apparent power kVA

Power factor PF

Generator accumulated energy kWh

Output percentage with load %
Mains have functions of over/under voltage and lack of phase. Gens have functions of over/under voltage, over/under frequency, over current and over power.

Precision measure and display of parameters about engine,Temp. (WT), °C/ °F, oil pressure (OP), kPa/psi/bar, fuel level (FL), % Fuel remains L. Speed (SPD), r/min, battery Voltage (VB), V. Charger Voltage (VD), V.
Accumulative running hours, accumulative start times.
Control protection: Automatic start/stop of genset, load transfer(ATS control) and perfect failure display and protection.
Jiangsu Starlight series Cummins generators power range is 20kw-2000kw, if you have purchase plan, welcome to contact us by email sales@dieselgeneratortech.com, or call us by phone +8613481024441. We will work with you.