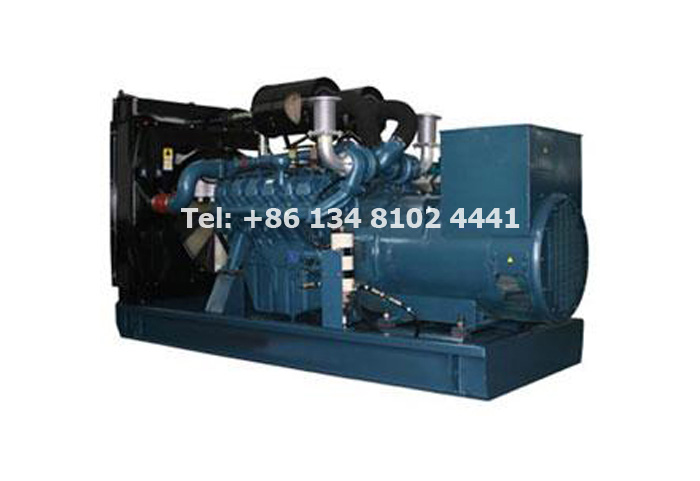 400KW 500KVA Doosan Daewoo Diesel Generator Set
Diesel Generator Set Data




Set Type: XG-400GF

Power Output: 400KW/500KVA

Rated Current: 720 (A)

Rated Frequency: 50(Hz)

Start-up time: 5~6(s)

Power Factor: 0.8(Lag)

Rated Voltage: 400/230(V)




For more types, please contact us




Standard Features
1. Engine: DOOSAN P180LE-S
2. Radiator 50℃ max
3. Fans are driven by belt, with safety guard
4. 24V charge alternator
5. Dry type air filter, fuel filter, oil filter
6. Alternator: single bearing alternator
7. IP23, insulation class H/H
8. Main line circuit breaker
9. Standard control panel
10. Absorber
11. Muffler
12. User manual
Diesel Engine Data
Manufacturer:
DOOSAN
Model:
P180LE-S
Standby/Prime Power:
496KW/452KW
Rated Speed:
1500(r/min)
Cycle:
4 stroke
Cylinder Arrangement:
6 in line
Displacement:
18.3L
Bore and Stroke:
128*142(mm)
Compression Ratio:
14.6:1
Governor Type:
Electronic
Start battery voltage:
24V DC




Air Intake System
Air Intake System:
Turbo
Min Intake Restriction:
100kpa
Air Flow:
30.3m3/min




Exhaust System
Exhaust Gas Flow:
87.5m3/min
Exhaust Temperature:
606℃
Max Back Pressure:
6kPa




Fuel System
Fuel System:
Direct injection
100%( Prime Power) Load:
108.9L/H
50%( Prime Power) Load:
54.5L/H




Oil System
Total Oil Capacity:


Oil Consumption:


Engine Oil Tank Capacity:
28-35L
Oil Pressure at Rated RPM:


Cooling System
Cooling Way:
Water-cooled
Total Coolant Capacity:
80L
Thermostat:
71-85℃
Max Water Temperature:
95℃




Alternator Data


Manufacturer:
STARLIGHT/STAMFORD/SIEMENS/MARATHON/ENGGA /KEPU
Excitation Mode:
Brushless and self- exciting
Number of phase and Access Act:
3-phase 4-wire
Connecting Type:
"Y" type connecting
Alternator Capacity:
500KVA
Alternator Efficiencies:
95%
Overload:
(PRP)110% load can run 1h
Protection Level:
IP22-IP23
Insulation Class, Temperature Rise:
H/H
Telephone Influence Factor (TIF):
<50
THF:
<2%
Voltage Regulation, Steady State:
≤±1%
Altitude:
≤1000m




Genset Electrical Performance


Voltage Regulation:
≥±5%
Voltage Regulation, Stead State:
≤±1%
Sudden Voltage Warp (100% Sudden Reduce):
≤+25%
Sudden Voltage Warp (Sudden Increase):
≤-20%
Voltage Stable Time (100% Sudden Reduce):
≤6S
Voltage Stable Time (Sudden Increase):
≤6S
Frequency Regulation, Stead State:
≤5%
Frequency Waving:
≤1.5%
Sudden Frequency Warp (100% SuddenReduce):
≤+12%
Sudden Frequency Warp (Sudden Increase):
≤-10%
FrequencyRecoveryTime(100%SuddenReduce):
≤5S
FrequencyRecoveryTime(Sudden Increase):
≤5S
Options

Engine

Alternator

Heater 2KW & 4KW

Anti Condensation Heater

Battery Charger 3.5A & 7A

Permanent Magnet Generator(PMG)

Water Separator

Drop CT(For Paralleling)

Daily Fuel Tank

Fuel Level Sensor

Control System

Others

Remote Control Panel

Rainproof Type

Auto Transfer Switch (ATS)

Soundproof Type

Paralleling System

Trailer Type

Open Type

Overall Size

Weight

3300(mm)*1400(mm)*1850(mm)

3300(kg)




Soundproof Type

Overall Size

Weight

3750(mm)*1900(mm)*2250(mm)

3750(kg)






Standard Control Panel

Starlight Standard Control Panel uses micro processing technique integrating digital, intelligent and network techniques which can carry out functions including auto start/stop, data measure, alarming. The controller uses LCD display, optional Chinese and English display interface with operation easy and reliable. It can be widely used in all types of generator automatic control system for compact structure, advanced circuits, simple connections and high reliability



Auto Module Control Panel

Auto Module Control Panel is the configuration for nobody on duty controlling generators. This kind of panel adopts auto module control system, with large LCD display to show the menu. Features: 6110 can receive remote output signal from ATS and realize auto start and stop of generators. 6310 can realize all functions of 6110, add RS232 interface which can communicate with PC to realize remote operation. 6410 Auto Mains Failure controller, can realize all functions of 6310, furthermore can detect ATS and control directly.




Auto Parallel Control Panel

This new automatic parallel system adopts intelligent modules, inserted and folded installed, no need the peripheral relay and logic circuit. The main switch adopts electronic breaker or frame breaker, combined together with the generator, which is very reliable. One generator, one panel. The panel can be used both for singly and parallel. It is only need to parallel generator with such panel when the capability needs to be enlarged in the future.



Related Technical Documents