Mar. 22, 2021
Starlight Power is authorized as OEM supplier of Yuchai engine for genset, we have cooperated with Yuchai Since 2015. Due to competitive price and reliable quality, Starlight Power generator with Yuchai engine has got a lot of good feedback from customers.
YC12VC series Yuchai diesel engine brief introduction
YC12VC series engine developed independently by Yuchai, is a classic product. It is characterized by energy-saving and environment-friendly, excellent performance, compact structure, and reliability and durability; the indexes, such as pollutant emission, dynamic performance, economy, and reliability, reach the international advanced level.
What is the characteristics of YC12VC series generator set?
1.Electronic unit pump, four-vale structure, high-efficient turbocharged intercooled, and Yuchai combustor technologies are adopted for realizing low fuel consumption, less emission, outstanding speed governing performance, and fast and high-quality loading.
2.High-strength material, reinforced gird structure with cambered surface, 4-bolt main bearing structure, are adopted for the engine body; thus the engine body is characterized by high stiffness, slight vibration, and low noise.
3.The crankshaft is made of high-quality alloy steel by using all fiber extrusion forging process, and the journal and cirular bead are subject to quenching heat treatment for improving wear resistance and prolonging service life.
4.The world-class equipment and technologies are used for production; thus, the quality of such model is stable and reliable.
5.The structure of one head for one cylinder is adopted; maintenance window is set at the side of the engine body, which ensures easy maintenance.
6.Requirement for Grade G3 generator unit performance is satisfied.
Base on the advantages of Yuchai diesel engine: wide range of power, high cost-effective, low fuel consumption, sustained durability, reliable, good adaptability on highland and low noise etc. Starlight customers are prefer to choose Yuchai diesel generator set. Feedback from customers about generating set is very good all the time, especially on low fuel consumption, sustained durability and good adaptability on highland.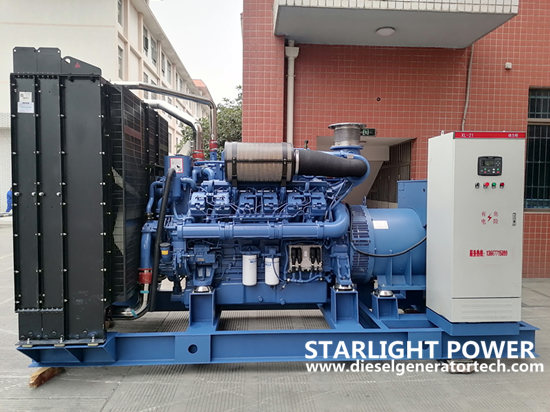 Some representative projects of Yuchai YC12VC series diesel generators
1.The 3×1600kW fully-automated parallel generating set with YC12VC2510-D31 engine has serviced the data center of Guangxi Public Security Bureau since March 2016 and has been working properly.
2.The 3 ×1800kW genest with YC12VC2700-D31 used in Shenzhen Chaozhou Telecom Hub Center, the generator formally passed the acceptance in November 2016 and was put into operation.
3.The 1500kW Yuchai generators with YC12VC engine in line with T3 emission requirements was used in the project of GUODIAN Nanjing Automation Co., LTD in Nima County, Tibet (5000 meters above sea level), and has passed the acceptance in December 2016. The unit has successfully completed the grid connection test carrying 1000kW load.
4.The 1000-1600kW generating unit with YC12VC engine has been applied in the large hospitals in Xinjiang, Sichuan, Shanxi, Jiangxi, China etc., and more than 10 sets are retained in the medical system.
Yuchai group uses no precise casting molding technology, produces high-quality cylinder block and cylinder head castings with thin wall, light weight, high strength excellent performance etc., it laid a solid foundation for Yuchai to produce the world-class stage six engine. The service areas are all over the world, having more than 700 marine power service station in domestic, provides professional and high-effect service for customers. Besides, there are 14 offices, 169 agents and 460 service station in Asia, USA, Africa and Europe.
Since 2015, Starlight has established a good partnership and became (OEM) supporting factories and technology with Yuchai group. Starlight will provide the best service and generators to customers all the time. Starlight Yuchai diesel generator can reach 20kw to 3000kw, if you have purchasing plan of diesel generator set, welcome to send your inquiry to us by email sales@dieselgeneratortech.com, we will work with you.