Jan. 31, 2023
Noise has always been a matter of annoyance and headache for us. There are also noise-related problems in diesel generator sets, but we have to use diesel generator sets. In order to solve these noise problems, muffler was born. In this article, let's talk about the muffler in the diesel generator set in detail.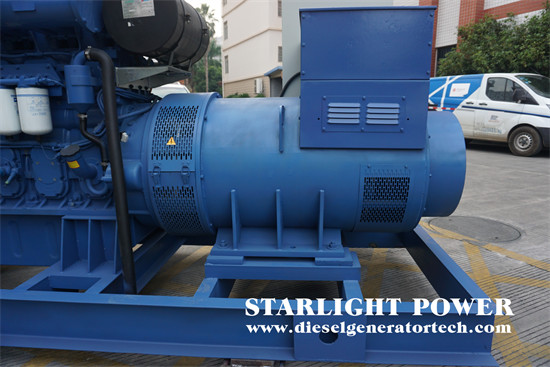 1. Introduction to muffler of diesel generator set
Silencer refers to the equipment used to reduce noise on the air flow channel of diesel generator set or in the intake and exhaust system. Mufflers can block the transmission of sound waves and allow the airflow to pass through. They are useful equipment in the noise removal and noise reduction engineering of the generator.
2. Product structure
There are many kinds of mufflers for diesel generator sets, and they can be divided into seven main types, namely, resistive mufflers, reactive mufflers, impedance composite mufflers, micro-perforated plate mufflers, small-hole mufflers, active mufflers and damping mufflers.
3. Operating principle
The muffler of diesel generator set equipment mainly uses porous sound-absorbing materials to reduce noise. The sound absorption material is fixed on the inner wall of the air flow channel or arranged in the pipeline according to a certain method to form a resistive muffler. When the sound wave enters the resistive muffler, part of the noise can be converted into heat energy consumption and dissipated by friction in the pores of the porous material, which weakens the sound wave passing through the muffler. The resistive muffler is like a pure resistance circuit in electricity, and the sound-absorbing material is similar to a resistance. Therefore, people call this kind of muffler resistance muffler. The dissipative muffler has a good muffling effect on medium and high frequencies, but a poor muffling effect on low frequencies.
4. Applicable scale of diesel generator silencer
The silencer of diesel generating set is the equipment used to reduce the noise on the air flow channel (smoke pipe) of the generator, and is an indispensable silencing equipment in the noise reduction project of the generator.
Jiangsu Starlight Power Generation Equipment Co., Ltd. was founded in 1974 and is one of the earliest manufacturers of generators and diesel generator sets in China. The company has a registered capital of 218.88 million yuan. The company covers an area of 86,000 square meters and a building area of 55,000 square meters. There are more than 660 employees, including 456 professional technicians and 106 senior technicians. It has 46 sales and service outlets nationwide. The main products are diesel engines, generator sets, and diesel generators, providing users with a one-stop service of design, supply, debugging and maintenance at any time. Starlight has always insisted on using first-class talents, building first-class enterprises, manufacturing first-class products, creating first-class services, and making every effort to build a first-class domestic enterprise. If any question please feel free to visit our website https://www.dieselgeneratortech.com/ or send email to sales@dieselgeneratortech.com.