Feb. 14, 2023
Today we will briefly introduce the working principle of DC diesel generator.
First of all, diesel generator is usually composed of stator, rotor, end cover, brush, base and bearing. The stator is composed of frame, stator core, wire wrapped winding, and other structural parts that fix these parts. The rotor is composed of rotor core, rotor magnetic pole (with magnetic choke and magnetic pole winding), slip ring, (also known as copper ring and collector ring), fan and rotor shaft.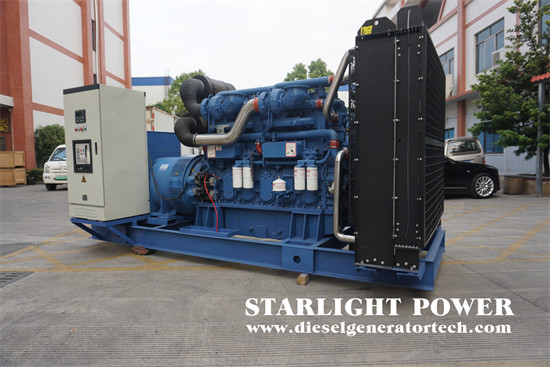 The stator and rotor of the diesel generator are connected and assembled through the bearing, base and end cover, so that the rotor can rotate in the stator. A certain excitation current is introduced through the slip ring, so that the rotor becomes a rotating magnetic field. The stator coil does the movement of cutting the magnetic line of force, thus generating the induction potential. It is led out through the terminal, connected in the circuit, and then generating the current.
In terms of physical structure, the stator and rotor of diesel generator are completely independent and non-interference parts besides being driven by a prime mover. The stator of the diesel generator is the active source, which generates the induced electromotive force and current. Under the traction of the original power, it outputs the active power of the alternating current. The size of the active power is determined by the original power (oil volume, gas volume, air volume, water volume, etc.).
The rotor of the diesel generator is a reactive power source, and the winding introduces direct current from the outside to establish a magnetic field. Under the traction of the original power, the reactive power of the alternating current is transmitted to the outside. The magnitude of the reactive power is determined by the direct current of the external input (most of which are obtained by the spontaneous rectification of the alternating current of the diesel generator).
From the perspective of electromagnetic principle, the rotor and stator are closely connected. The active and reactive power of the diesel generator are output by the stator. The torque of the rotor determines the size of the active power, and the DC current of the rotor coil determines the size of the reactive power.
Jiangsu Starlight Power Generation Equipment was founded in 1974, it is one of the earliest manufacturers of generators and diesel generator sets in China. The company has a management team with advanced awareness, young vigor and proficient business, taking the establishment of high-tech innovation enterprises as the starting point, adhering to "high starting point, high technology and excellent service", actively collecting and absorbing advanced technologies and products at home and abroad, and constantly updating and upgrading products. In recent years, the company has conducted extensive cooperation with Sweden Volvo, Cummins, Perkins, DOOSAN, Germany MTU, Ricardo, Shangchai, Yuchai, Weichai, Jichai, Tongchai, Wudong and other companies, and has become a (OEM) supporting factory and technology center, laying a solid foundation for opening up the international market.