Jan. 29, 2023
Weichai diesel generator set series has a power of 10-1000KW. The generator set has strong power, stable and reliable operation, simple operation, convenient maintenance, low operation cost, and is a national chain of three guarantees for units and accessories. Weichai series generator sets are widely used in hospitals, office buildings, shopping malls, factories and enterprises, residential buildings, mines and other outdoor projects as emergency standby generators, fire protection and security power supplies, and common generator sets. The unit has fuel economy, high thermal efficiency, fast start, reliable performance and long continuous operation time. It can operate stably in various environments and has the advantages of convenient maintenance and repair. Welcome to order from Jiangsu Starlight Electricity Equipments Co.,Ltd.

I. Features of Weichai diesel generator set:
1. Low fuel consumption, low emissions and low noise.
2. The unit has excellent performance, advanced technology, reliable operation and convenient maintenance.
3. High voltage regulation accuracy, good dynamic performance, compact structure and long service life.
4. Weichai products are subject to high altitude, high temperature, high cold and "three high" experiments all year round, with strong environmental adaptability.
5. It only takes a few seconds to start quickly and reach full power quickly. The shutdown process with full load due (5-30MIN normal) within one minute of emergency is short and can be started and stopped frequently.
6. The maintenance operation is simple, and the maintenance is easy during the standby period.
7. The product classification is rich, and the functional structure is divided into: purpose automation unit, rain-proof shed unit, low-noise unit, trailer mobile power station unit. In the industry, it is divided into civil power generation units, military power generation units, oilfield power generation units, telecommunication power generation units, etc.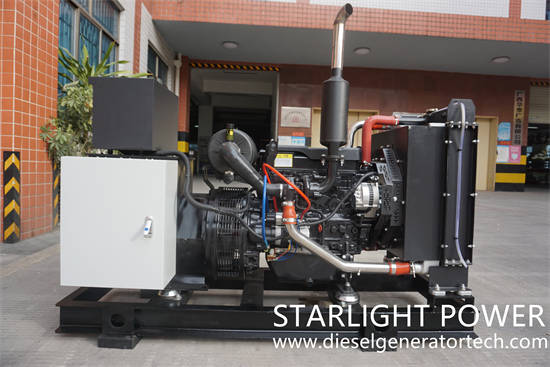 II. Unit electrical index:
Rated frequency 50HZ (60HZ optional), power factor COS Ф= 0.8, rated voltage 400/230V, phase line: three-phase four-wire system.
If you need to know other information about the unit, the quotation of Weichai diesel generator unit or the unit parameters of the power model not shown, please contact us.
Jiangsu Starlight Electricity Equipments Co.,Ltd. is one of the earliest manufacturers of generating sets in China. It has first-class testing equipment, advanced production technology, professional manufacturing technology, perfect quality management system, and strong R&D technical strength. It can provide 3KW-2500KW various specifications of universal, automatic, four protection, automatic switching, low noise and mobile, etc., high-quality, low-energy generating sets to meet all customers' power needs, and can also meet users' different voltages and different frequency requirements, as well as the parallel-connected power supply system of multiple units, use excellent talents to build excellent enterprises, create excellent products, create excellent services, and strive to build excellent domestic enterprises. For more product details, please contact us with sales@dieselgeneratortech.com.