Oct. 13, 2021
Vibration failures of generator sets are very common. Based on years of experience, Starlight Power Generation Equipment concludes that most of the causes of vibrations come from the failure of internal components. We need to investigate one by one from the following aspects.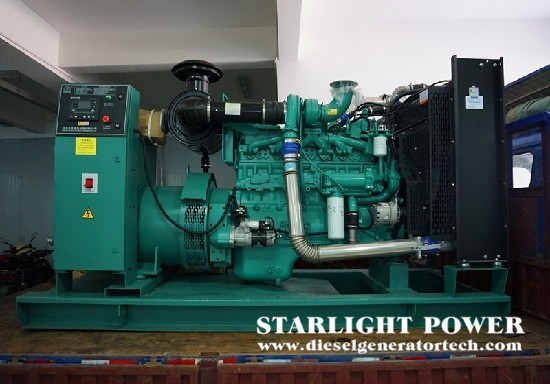 1. The shaft system of the linkage part is misaligned, the center line does not coincide, and the centering is incorrect. This kind of failure is mainly caused by poor alignment and improper installation during the installation process. There is another situation, that is, the center lines of some linkage parts coincide in the cold state, but after a period of operation, due to the deformation of the rotor fulcrum and foundation, the center line is destroyed again, and vibration occurs.
2. The gears and couplings connected to the generator set are faulty. This kind of failure is mainly manifested as poor gear engagement, serious gear tooth wear, poor lubrication of the wheel, coupling skew, misalignment, gear coupling tooth profile, incorrect tooth pitch, excessive clearance or serious wear, which will cause certain problems. vibration.
3. Defects in the structure of the generator set and installation problems. This kind of failure is mainly manifested as the ellipse of the shaft journal, the bending of the rotating shaft, the too large or too small gap between the shaft and the bearing bush, the insufficient rigidity of the bearing seat, foundation plate, certain part of the foundation and even the entire generator set installation foundation. Insufficient fixation, loose foot bolts, looseness between the bearing seat and the foundation plate, etc. The gap between the shaft and the bearing bush is too large or too small can not only cause vibration, but also cause abnormal lubrication and temperature of the bearing bush.
In fact, most vibration problems can be prevented through installation steps. Friends who install the equipment by themselves must understand the correct steps in advance, or choose a reliable partner, and leave the installation work to professionals to avoid improper installation.
Jiangsu Starlight Power Generation Equipment Co., Ltd. was founded in 1974 and is one of the earliest manufacturers of generators and diesel generator sets in China. The company has a registered capital of 218.88 million yuan. The company covers an area of 86,000 square meters and a building area of 55,000 square meters. There are more than 660 employees, including 456 professional technicians and 106 senior technicians. It has 46 sales and service outlets nationwide. The main products are diesel engines, generator sets, and diesel generators, providing users with a one-stop service of design, supply, debugging and maintenance at any time. Starlight has always insisted on using first-class talents, building first-class enterprises, manufacturing first-class products, creating first-class services, and making every effort to build a first-class domestic enterprise. If any question please feel free to visit our website https://www.dieselgeneratortech.com/ or send email to sales@dieselgeneratortech.com.