May. 18, 2022
If the oil cooler is broken, it will cause serious consequences if it is not replaced in time. The function of the oil cooler is to cool the lubricating oil and keep the oil temperature within the normal working range. On a high-power reinforced engine, an oil cooler must be installed due to the large thermal load. When the engine is running, the lubricating capacity is reduced due to the thinning of the oil viscosity with increasing temperature. Therefore, some engines are equipped with oil coolers, whose function is to reduce the temperature of the oil and maintain a certain viscosity of the lubricating oil.

When the diesel engine under the following conditions is maintained, the oil cooler core must be cleaned vigorously:
①Diesel engine burns tile or holds shaft failure.
②Diesel engine cylinder or piston top ablation failure.
③ When the resistance of the oil cooler is too large (over 0.08 MPa).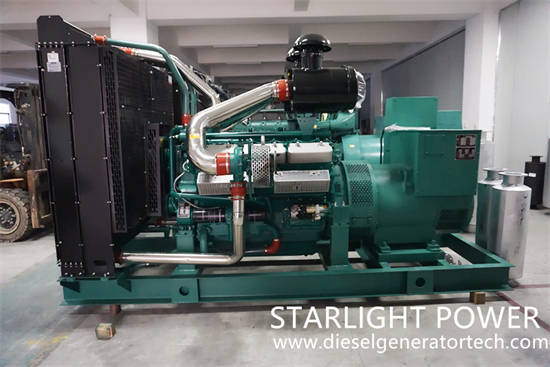 To clean the oil cooler, you can use gasoline, kerosene or other special (such as carbon tetrachloride solution) cleaning agent. When cleaning, directly guide the cleaning agent into the oil cooler channel, block both ends, and then shake the oil cooler core up and down (or left and right). Observe the effect after releasing the cleaning agent. If the cleaning agent released is very dirty, you can wash it several times until you are satisfied.
Jiangsu Starlight Power Generation Equipment Co., Ltd. was founded in 1974 and is one of the earliest manufacturers of generators and diesel generator sets in China. The company has a registered capital of 218.88 million yuan. The company covers an area of 86,000 square meters and a building area of 55,000 square meters. There are more than 660 employees, including 456 professional technicians and 106 senior technicians. It has 46 sales and service outlets nationwide. The main products are diesel engines, generator sets, and diesel generators, providing users with a one-stop service of design, supply, debugging and maintenance at any time. Starlight has always insisted on using first-class talents, building first-class enterprises, manufacturing first-class products, creating first-class services, and making every effort to build a first-class domestic enterprise. If any question please feel free to visit our website https://www.dieselgeneratortech.com/ or send email to sales@dieselgeneratortech.com.