Nov. 23, 2022
Jiangsu Starlight Electricity Equipments Co.,Ltd. Guide: The working condition of the unit refers to that the unit can output rated power under the specified operating environment conditions and can work reliably and continuously. The working conditions of the power station (unit) specified in JB/T 10303-2020 Technical Conditions for Power Frequency Diesel Generator Sets are mainly determined according to the altitude, ambient temperature, relative humidity, whether there is mold and salt spray, and the inclination of placement.

Standard working environment conditions shall be adopted to determine the rated power of the unit. Since the diesel engine, AC synchronous generator and control system that make up the generator set have their own provisions and standards in the national standards, these factors should be comprehensively considered when selecting and determining the working environment conditions of the generator set, and the emphasis should be on the basis of the standard environmental conditions of the engine.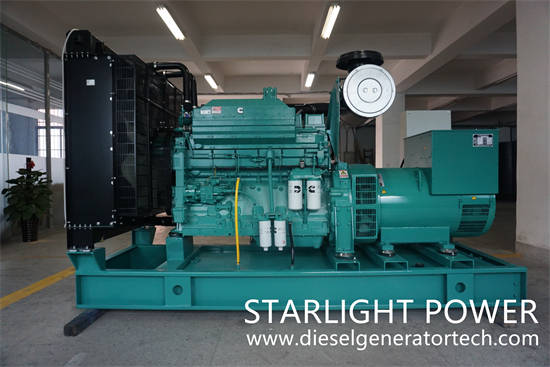 (1) Conditions for output of rated power.
① Standard reference condition: absolute atmospheric pressure, Pr=100kPa. Ambient temperature, Tr=398K (tr=25 ℃). Relative humidity, Φ r=30%。
② Site conditions: the unit shall be able to output rated power under the site service conditions specified in the contract. If the unit is likely to operate under special hazardous conditions (such as explosive atmosphere, flammable gas environment, chemical pollution environment and radioactive environment), the user and manufacturer shall specify in the signed contract. If the unit needs to operate in marine environment or coastal areas, special consideration must be given.
(2) Conditions for output of specified power (correction allowed).
① Altitude: no more than 4000m.
② Ambient temperature: the upper limit is 40 ℃, 45 ℃ and 50 ℃ respectively.
The lower limit values are - 40 ℃, - 25 ℃, - 15 ℃ and - 5 ℃ respectively.
③ Relative humidity, condensation and mold.
Jiangsu Starlight Electricity Equipments Co.,Ltd. is a manufacturer of professional generators, diesel generator sets, Cummins generator sets, Volvo generator sets, etc. The company has advanced testing equipment, excellent production technology, professional manufacturing technology, perfect quality management system, and Strong R&D technical strength. It can provide 15KW-2500KW various specifications of universal, automatic, four protection, automatic switching, low noise and mobile, etc., high-quality, low-energy generating sets to meet customer power needs, and can also meet users' different voltages and different frequencies, as well as the power supply system of multiple units connected in parallel, welcome customers to inquire. For more details, please contact us with sales@dieselgeneratortech.com.