Oct. 09, 2022
During daily startup and operation, low-noise Volvo generator set can gradually convert the energy of diesel oil into electric energy, which can quickly drive the operation of the generator. In the cylinder of the diesel engine, clean air can be fully combined with high-pressure atomization after passing through the air filter. After being squeezed upward by the piston, the volume will gradually shrink, resulting in a gradual rise in temperature, which can effectively reach the diesel ignition point.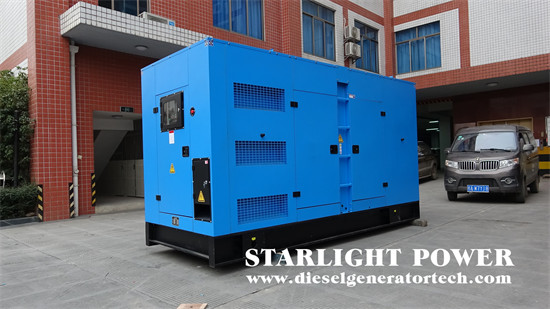 1. Working principle of Volvo low-noise generator set
After the diesel fuel is ignited, the mixed gas will also enter the combustion stage quickly, and the volume will also enter the expansion process. In this process, which is actually what we call work, each cylinder will do the work in order. The role of each cylinder is directly reflected in a force on the volcano, which can directly drive the crankshaft to rotate.
Next, the brushless AC motor and the diesel crankshaft can also be directly installed in the same axis, which can effectively use the rotation of the diesel engine to directly drive the development of the entire engine. Using the principle of electromagnetic induction, the engine will output the induction electromotive force in a short time. After a period of closing, the current can be formed immediately, which is its working principle.
2. Supply standard configuration of Volvo low-noise generator set
(1) Engine (with all accessories, three filters and electrical system) original warranty card brushless alternator unit manual
(2) Steel structure base engine manual
(3) Fan water tank cooling system generator manual
(4) Test report of flange coupling unit
(5) 24V starting motor and charging motor generator set
(6) Airborne control panel with product certificates of air filter, diesel filter and oil filter
(7) MCCB air protection switch
(8) Shock absorber of 24V starting battery and battery line unit
(9) Industrial high-efficiency muffler
In addition to the above 9 supply configuration requirements, users should also know more about the scale, culture, after-sales service and other aspects of the enterprise before purchasing units.
Jiangsu Starlight Power Generation Equipment Co., Ltd. was founded in 1974 and is one of the earliest manufacturers of generators and diesel generator sets in China. The company has a registered capital of 218.88 million yuan. The company covers an area of 86,000 square meters and a building area of 55,000 square meters. There are more than 660 employees, including 456 professional technicians and 106 senior technicians. It has 46 sales and service outlets nationwide. The main products are diesel engines, generator sets, and diesel generators, providing users with a one-stop service of design, supply, debugging and maintenance at any time. Starlight has always insisted on using first-class talents, building first-class enterprises, manufacturing first-class products, creating first-class services, and making every effort to build a first-class domestic enterprise. If any question please feel free to visit our website https://www.dieselgeneratortech.com/ or send email to sales@dieselgeneratortech.com.