Oct. 16, 2019
Volvo Penta Genset Engine - A powerful, reliable and economical Generating Set Diesel Engine built on the dependable in-line four design.
Starlight will share Volvo generator engine models as well as corresponding power in the table below. (Including T2 and T3 emissions, 50Hz/60Hz)
Volvo Generator Stage II/ Tier 2



50Hz/1500rpm

60Hz/1800rpm

Engine

Prime(kw/kva)

Standby(kw/kva)

Prime(kw/kva)

Standby(kw/kva)

TAD530GE

68/85

76/95

69/86

77/97

TAD531GE

81/101

89/112

84/105

92/115

TAD532GE

104/130

115/144

105/131

116/145

TAD731GE

123/154

136/170

128/160

141/176

TAD732GE

146/183

162/202

159/199

177/221

TAD733GE

164/205

180/226

179/223

198/248

TAD734GE

204/255

224/280

207/259

230/287

TAD1341GE-B

255/319

281/351

273/342

301/377

TAD1342GE-B

282/352

310/387

321/401

351/438

TAD1343GE-B

302/378

331/414

328/410

361/451

TAD1344GE-B

329/411

362/452

364/455

401/501

TAD1345GE-B

365/456

405/506

368/460

405/506

TAD1640GE-B

368/460

405/506

404/505

450/563

TAD1641GE-B

404/505

445/556

456/570

513/642

TAD1642GE-B

473/591

521/651

500/625

550/687

TWD1643GE

504/630

560/700

550/687

605/757

TWD1644GE

521/652

573/717

547/684

602/752

TWD1645GE

560/700

616/770

582/727

640/800
Volvo Generator Stage III/ Tier 3



50Hz/1500rpm

60Hz/1800rpm

Engine

Prime(kw/kva)

Standby(kw/kva)

Prime(kw/kva)

Standby(kw/kva)

TAD550GE

69/86

76/95

77/97

86/107

TAD551GE

82/102

89/112

92/115

92/115

TAD750GE

104/130

115/144

115/144

101/127

TAD751GE

121/152

136/170

136/170

130/162

TAD752GE

145/182

162/202

163/204

151/189

TAD753GE

163/203

180/226

183/229

180/225

TAD754GE

204/255

224/280

206/258

203/253

TAD1350GE






227/284

228/285

TAD1351GE

259/324

310/387

273/341

351/438

TAD1352GE

292/365

331/414

320/400

250/313

TAD1353GE






364/454

300/375

TAD1354GE

305/381

405/506

320/400

350/437

TAD1355GE

334/417

405/506

323/404

353/442

TAD1650GE

370/462

445/556

413/516

454/568

TAD1651GE

404/505

521/651

464/580

513/641

TWD1652GE

480/600

560/700






TWD1653GE

520/650

573/717





Features:
Energy efficiency and Economy
Through careful management of the combustion process, involving precise control
of air movement and injection spray Volvo Penta has been able to achieve high efficiency and reduced exhaust emission levels that comply with current requirements and which will enable the engines to satisfy future legislation. Volvo Penta engines offer the highest kWh/Liter fuel, resulting in superior economy and performance.
Durability & low noise
Designed for easy, fast and economical installation. Field tested to ensure highest standard of durability and long life. Well-balanced to produce smooth and vibration-free operation with low noise level. To maintain a controlled working temperature in cylinders and combustion chambers, the engine is equipped with piston cooling. The engine is also fitted with replaceable cylinder liners and valve seats/guides to ensure maximum durability and service life of the engine.
Low exhaust emissions
The state of the art, high-tech injection and highly efficient charge air system with low internal losses contributes to excellent combustion and low fuel consumption. The engine is EPA/CARB Tier 3 & EU Stage 3A emissions certified. These regulations are met by using V-ACT™ (Volvo Advanced Combustion technology). V-ACT includes a flexible high pressure Common-rail fuel injection system, an air management system including an internal exhaust gas recirculation device and an enhanced electronic controller.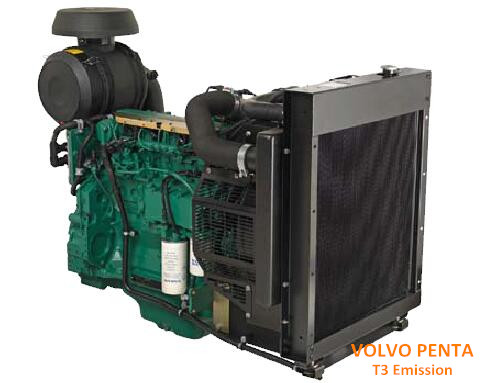 Volvo Cars is the largest car company in Northern Europe, the largest industrial group in Sweden and one of the top 20 automobile companies in the world. Volvo manufactures trucks, passenger buses, construction machinery, power systems for marine and industrial applications, aircraft engines and components for aircraft engines.
Starlight Volvo diesel generator set adopts Volvo Penta diesel engine produced by Volvo Group, equipped with UK Stamford/Leroy-Somer/Marathon/CSIC Siemens/Engga/Shanghai KEPU alternators and UK Deep Sea/China SmartGen controllers.
For open type Volvo generator, the noise level can reach 60dB if you do noise reduction treatment in machine room. For Volvo silent generator, super silent generator, trailer soundproof generator and container silent generator set, the noise level can be reduced to 70dB.
Volvo diesel generator has the characteristics of low fuel consumption, low emissions, low noise and compact structure. In addition, Volvo diesel generator sets have high load-bearing capacity and fast and reliable cold start performance; stable operation, low exhaust emissions and low operating cost, small appearance; Power range 64KW-456KW. Volvo generators are trusted by customers all around the world because of their reliable performance, strong horsepower, green environmental protection and humanized safety design.
Volvo Diesel Generator Set Standard Configuration
Diesel engine (with all accessories, three filters, electrical system)
Brushless alternator
Steel structure base
Fan tank cooling system
Flange coupling
24V starter motor and charging generator
Air filter, fuel filter, oil filter
Standard control screen
MCCB air protection switch
24V start battery and battery line
Genset shock absorber
Industrial high-efficiency silencer
Random technical file
Original warranty card
Genset manual
Engine manual
Generator manual
Unit test report
Product certification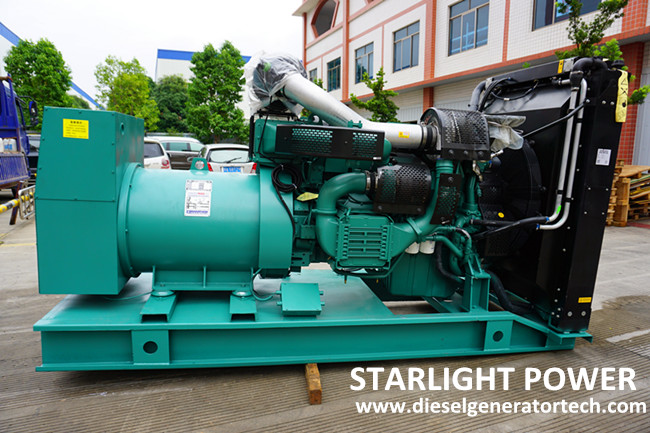 Power generation principle:
The diesel engine drives the generator to convert the energy of the diesel into electrical energy. In the cylinder of the diesel engine, the clean air filtered by the air filter is fully mixed with the high-pressure atomized diesel fuel injected from the injector. Under the upward extrusion of the piston, the volume is reduced and the temperature is rapidly increased to reach the ignition point of the diesel. The diesel is ignited, the mixed gas burns violently, and the volume expands rapidly, pushing the piston down, called "work".
Each cylinder works in a certain order, and the thrust acting on the piston turns into the force pushing crankshaft rotation through the connecting rod, thus driving the crankshaft to rotate. By installing the brushless synchronous alternator coaxially with the diesel engine crankshaft, the rotor of the generator can be driven by the rotation of the diesel engine. By using the principle of 'electromagnetic induction', the generator will output an induced electromotive force, and a current can be generated through the closed load loop.