Oct. 20, 2022
The power generated by diesel generators is mainly used to provide power supply for various construction equipment and tools, but this is not the only reason for the construction site to have diesel generators. For example, if the construction project involves working underground or in an area without proper ventilation, the diesel generator can be used to pump breathable air into the work area and exhaust stale air and waste gas to ensure the comfort and safety of workers. In a word, you can improve the productivity of your project and help reduce the risk of delays by using Starlight Power diesel generators.
In modern times, all businesses rely on reliable electricity to develop. If there is no reliable electricity, phones, computers and machines will not work, and your enterprise will lose in the fierce market competition. Jiangsu Starlight Power not only designs and manufactures high-quality and high-performance diesel generators, but also provides sales, installation, maintenance and other services. In addition, we can ensure that you have products that meet the needs of your enterprise.
What we do is not only selling, but also providing one-stop services from research and development, manufacturing, installation, commissioning, maintenance and repair of diesel generators. In Jiangsu Starlight Power, you can purchase diesel generator sets and follow-up services that are most suitable for your needs.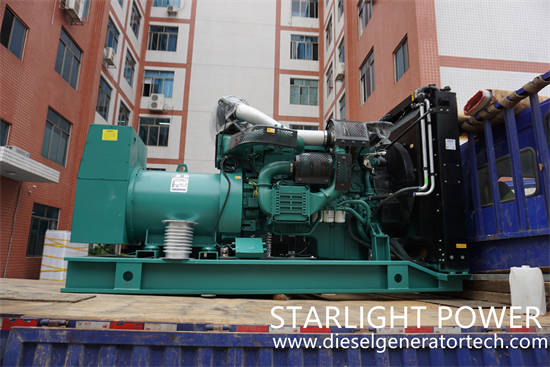 We provide and maintain the supply of diesel generator sets, which can generate any power from 30kW to 3000kW when the units are connected in parallel. We can customize various types of diesel generator sets with special power needs, such as ordinary, automatic, four protection, automatic switching, three remote monitoring, low noise, mobile, automatic grid connection system, etc.
Most importantly, we have a thorough understanding of industry trends and technological progress. We can help you choose systems that include these, which can help improve reliability and efficiency and reduce your enterprise's long-term operating costs. We also pay close attention to industrial and environmental regulations to help you plan for the future while still enjoying today's reliable electricity. At each stage of the diesel generator manufacturing, sales and installation process, our goal is to help our customers get the maximum benefit from their investment. Whether you operate commercial facilities, industrial operations, medical care facilities, agricultural enterprises or office buildings, Jiangsu Starlight Power's team can help you choose the diesel generator system that best suits your environment and operational requirements.
When you purchase a diesel generator from Jiangsu Starlight Power, what you do is not only purchase, but also invest in the reliable operation of the equipment. It will surpass the manufacturing, sales and installation of diesel generators. We will maintain, test and repair your diesel generator system. Our team is very good at using the latest and most advanced test equipment to ensure that your diesel generator system operates as required when you need it.
In addition, Jiangsu Starlight Power also has a spare parts warehouse with sufficient stock. When problems occur, Jiangsu Starlight Power can quickly send maintenance technicians to the diesel generator with appropriate tools and replacement parts to make the power flow again. This minimizes downtime and helps you protect your business's normal power needs. In addition, our maintenance technicians have a deep understanding of your diesel generator and its specific service history, which can help us narrow the scope of potential problems through our diesel generator technicians and carry out preventive maintenance before the next problem occurs.
Jiangsu Starlight Electricity Equipments Co.,Ltd. (affiliated to Jiangsu Starlight Power Group), founded in 1974, is a professional manufacturer of domestic and imported generators, diesel generator sets, Cummins generator sets, Volvo generator sets, etc. It is one of the earliest manufacturers of domestic generators and diesel generator sets. It can provide 15KW-2500KW universal, automatic, four protection, automatic switching, low noise and mobile generator sets of various specifications, high quality, low energy consumption, domestic and imported generator sets to meet customers' power needs, meet users' requirements for different voltages and frequencies, and multiple units are connected to the grid in parallel. Looking forward to your inquiry, please send email to us for details sales@dieselgeneratortech.com.