Oct. 23, 2023
Volvo diesel generator sets are a type of energy that is very frequently used in China, and some regions abroad have always been used as the main energy source for power generation. In most construction projects in South Africa, Volvo diesel generator sets are used as the main energy source for power generation. A high-quality Volvo diesel generator set can bring stable output electricity.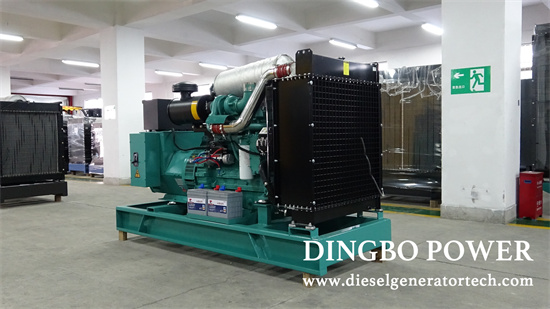 Volvo diesel generator sets often encounter voltage instability during long-term use. This situation is relatively common, which is caused by poor contact of some components and other problems during use. Below, Dingbo Power Generation Equipment mainly explains how to solve the problem of high voltage in Volvo diesel generator sets during operation.
Generally speaking, the reasons for high voltage mainly include four aspects.
1. The speed is too high. Faced with the problem of high speed, the operator only needs to reduce the opening of the turbine's guide vanes.
2. The iron core gap of the shunt reactor is too large. This problem is also relatively simple to handle, and the operator only needs to adjust the thickness of the iron core gasket.
3. The magnetic field rheostat is short circuited. When the voltage is too high due to a short circuit in the magnetic field rheostat, there may be a problem of voltage regulation failure simultaneously. The operator only needs to eliminate the short circuit point directly.
4. Flying is a common problem. When a speeding problem occurs during the use of a Volvo diesel generator set, the operator needs to urgently shut down and then handle the accident.
Guangxi Dingbo Power Equipment Manufacturing Co.,Ltd has been established for many years. In addition to strict requirements on the quality of diesel generator set products and after-sales service, it also has strict regulations on the plant environment, production equipment and supporting facilities, which reflects the strict style of Dingbo people. It is not only responsible for generator products, customers, but also employees, so that every employee of Dingbo Power generation equipment can work in a comfortable environment, Make it comfortable for every visiting customer to visit. Dingbo Power Group, relying on high-quality generators, generator sets, diesel generator, diesel generator sets, good services and the care of friends from all walks of life, carries forward the enterprise spirit of "pragmatic innovation, pioneering, unity and hard work, dare to be the first", and adheres to the enterprise style of "treating people with sincerity and heart to heart", has won the strong support of customers in the fields of post and telecommunications, finance, petrochemical, metallurgy, transportation, education, medical care, etc, Having a proud performance. Dingbo people are gradually moving towards economies of scale and entering the international market after joining the WTO with flexible sales strategies and relying on the company's advantages and strength. If you would like to get more information welcome to contact us via sales@dieselgeneratortech.com.