Nov. 10, 2021
Do you know that there are several types of diesel generator sets? In recent years, the development of domestic diesel generator sets has made great progress, and its start-up types have also undergone new developments, from the basic type of boats to the subsequent automatic start , And now the microcomputer automatically controls diesel generator sets, and the performance of the equipment is constantly improving. Below we will introduce these types of start-ups one by one. The basic type is the most basic type. It is composed of diesel engine, enclosed water tank, fuel tank, muffler, synchronous alternator, control box, etc. The feature of this type of equipment is that it has the function of automatic adjustment of voltage and speed. Used as a main power supply or a backup power supply.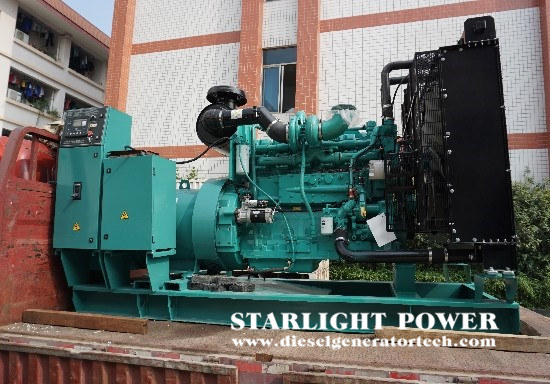 The automatic start type is a model with an automatic control system added to the basic equipment, and has an automatic start function. The addition of this function will further improve its performance. When there is a sudden power failure in the mains, the auto-start unit can automatically start, switch, run, transmit, and stop automatically. Not only that, the self-starting diesel generator set can automatically send out an audible and visual warning signal when the oil pressure is too low or the oil temperature is too high. When the diesel generator set exceeds the speed, it can automatically stop emergency to protect the diesel generator set equipment.
The third type is the more advanced microcomputer-based automatic control diesel generator set equipment. First of all, it is more advanced in terms of equipment. It consists of a diesel engine, a three-phase brushless synchronous generator, an automatic fuel supply device, an automatic oil supply device, and cooling water. It is composed of automatic replenishment device and automatic control cabinet. Its advanced point is that the control system is controlled by a programmable controller, with functions such as self-starting, self-switching, self-operation, self-input, and self-shutdown. At the same time, it is equipped with various fault alarms and automatic protection devices, which can realize unmanned On-duty work is directly controlled by a computer, which is relatively advanced compared to the above two types of equipment.
Jiangsu Starlight Power Generation Equipment Co., Ltd. was founded in 1974 and is one of the earliest manufacturers of generators and diesel generator sets in China. The company has a registered capital of 218.88 million yuan. The company covers an area of 86,000 square meters and a building area of 55,000 square meters. There are more than 660 employees, including 456 professional technicians and 106 senior technicians. It has 46 sales and service outlets nationwide. The main products are diesel engines, generator sets, and diesel generators, providing users with a one-stop service of design, supply, debugging and maintenance at any time. Starlight has always insisted on using first-class talents, building first-class enterprises, manufacturing first-class products, creating first-class services, and making every effort to build a first-class domestic enterprise. If any question please feel free to visit our website https://www.dieselgeneratortech.com/ or send email to sales@dieselgeneratortech.com.