Jul. 22, 2023
Overhaul of diesel generator depends on different models and service conditions, and is directly related to manufacturing quality, maintenance and use. The general overhaul period can be carried out according to the factory regulations. The management personnel can judge whether to overhaul the diesel generator according to the actual working conditions of the diesel engine. The diesel generator shall be overhauled in case of the following conditions.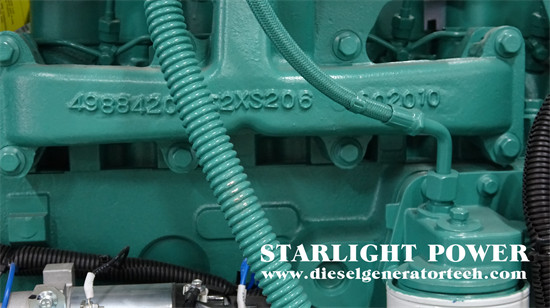 1. Poor starting performance: the diesel generator diesel engine is difficult to start, the cylinder sealing performance drops, and the air leakage is serious.
2. Insufficient power: the power performance of the diesel generator diesel engine is significantly reduced, and the operation is weak. After adjustment, there is still no improvement. When the fuel adjustment lever is at its maximum position, the maximum power is less than 80% of the rated power;
3. Serious loss of fuel and engine oil: diesel generator diesel engine emits black smoke under common working conditions, and fuel consumption and engine oil consumption increase significantly. When the diesel engine is well sealed and free from oil dripping, the oil consumption exceeds the specified limit by more than one time;
4. Abnormal sound and increased vibration during operation: during the operation of the diesel generator diesel engine, abnormal sounds such as serious piston knocking sound, metal knocking sound in the crankcase, etc. are heard, and the vibration of the diesel engine is increased.
5. The cylinder liner is severely worn, and its roundness or cylindricity reaches or exceeds the limit of use.
6. The cylinder pressure significantly decreases, below 75% of the rated pressure, and there is an abnormal sound inside the cylinder, which does not disappear after the machine heats up;
7. The temperature in the crankcase rises significantly, the air vent and oil filler of the diesel generator emit mist smoke, and the exhaust gas contains oil;
8. Other situations that require major repairs.
Jiangsu Starlight Power Generation Equipment Co., Ltd. was founded in 1974 and is one of the earliest manufacturers of generators and diesel generator sets in China. The company has a registered capital of 218.88 million yuan. The company covers an area of 86,000 square meters and a building area of 55,000 square meters. There are more than 660 employees, including 456 professional technicians and 106 senior technicians. It has 46 sales and service outlets nationwide. The main products are diesel engines, generator sets, and diesel generators, providing users with a one-stop service of design, supply, debugging and maintenance at any time. Starlight has always insisted on using first-class talents, building first-class enterprises, manufacturing first-class products, creating first-class services, and making every effort to build a first-class domestic enterprise. If any question please feel free to visit our website https://www.dieselgeneratortech.com/ or send email to sales@dieselgeneratortech.com.