Dec. 21, 2022
Jiangsu Starlight Power Guide: When the mains power is interrupted or failed, the generator set will be automatically started for parallel output power supply, and the power supply of the generator set will not be connected to the mains power. Therefore, 12 10kV high-voltage generator units are used as a parallel combination, and the power center is built with two parallel modules controlled by two parallel control systems. The following is the parallel operation scheme of 10kV high-voltage diesel generator set applied in the communication industry.

First of all, the generator in the power center mainly provides emergency power supply guarantee capacity for IT loads, air conditioners, building electrical, etc. of the machine room. The parallel capacity of the generator set should first meet the following three conditions:
1. The continuous operation rated power of the generator set is greater than or equal to the calculated power of the stable load.
2. The standby operation power of the generator set is greater than or equal to the peak power of the load.
3. When the largest motor starts, the instantaneous voltage drop of the generator set shall not be greater than 15%-20%.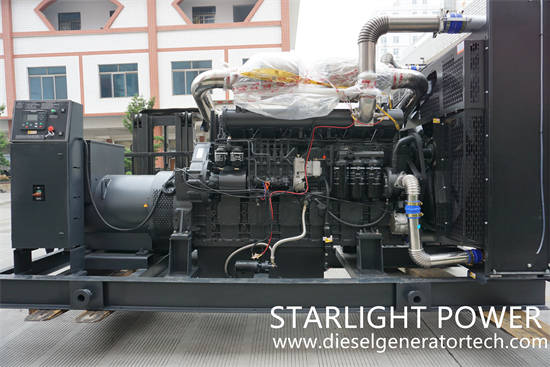 Secondly, the data center is equipped with a large number of continuous power supplies. Its characteristics are nonlinear loads, which will produce harmonics on the power supply lines, causing distortion of the generator output voltage waveform. For generator sets with high impedance, harmonics have a greater impact on generator sets. As the generator set is a limited capacity system relative to the power grid, in addition to meeting the demand for stable load, it is also necessary to consider the impact of load characteristics (power quality), starting performance, impact load (starting current of refrigeration unit and water pump, excitation current when transformer is put into operation) on the use of the generator.
Jiangsu Starlight Electricity Equipments Co.,Ltd. has a young and professional technical backbone team, with an average working age of more than 10 years in the generator unit industry. There are 64 sales and service departments throughout the country to provide users with a one-stop service of machine room design, equipment supply, commissioning and maintenance at any time. No matter when and where, a well-trained service team will provide you with comprehensive and considerate protection. For more details, please contact us with sales@dieselgeneratortech.com.