Jun. 29, 2023
Overview and management ideas of generator noise: generator noise mainly includes exhaust noise, intake noise, combustion noise, mechanical noise generated by high-speed reciprocating motion and impact of moving parts such as connecting rods, pistons, and gears during generator operation, and airflow noise of cooling water exhaust fans. The comprehensive noise of the generator is very high, generally up to 100 according to the power size - generally speaking, noise control is actually to control the noise source, Pathogen transmission and the noise to the receiver to make it reach the allowable noise level.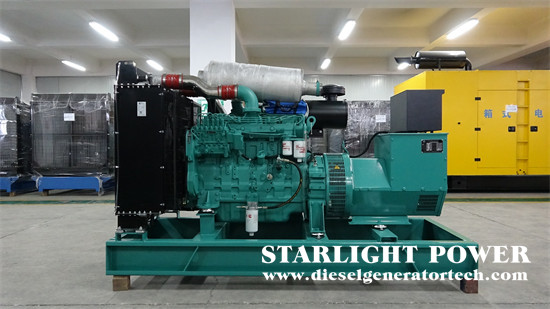 Controlling the noise source to reduce generator noise is not an easy task, as it is limited by technical conditions, so sound reduction measures can only be taken in terms of sound transmission channels. To ensure that the temperature of the generator room is controlled within the working environment temperature of the generator, measures such as natural air intake and forced exhaust are taken to timely exhaust the heat emitted during the operation of the generator, while continuously replenishing fresh cold air.
The heat dissipation on the surface of the generator is solved by installing an axial flow fan for forced ventilation. Generally, according to the size of the generator room, one or two 5-axis flow fans with a wind capacity of 70009000m3/h are selected. Their function can not only enhance heat dissipation during generator operation, but also provide ventilation when the generator is stopped. The heat dissipation in the internal circulation of the generator is forced out of the machine room through its built-in heat dissipation fan through the air guide box, creating holes in the inlet and outlet, leading to generator noise leakage. To prevent generator noise from spreading outward from the inlet and outlet air ducts, silencers must be installed at both the inlet and outlet air ports.
Since 1982, Starlight Generator has been a generator set manufacturer qualified by the "National Internal Combustion Engine Quality Supervision and Inspection Center". The product quality has passed the IS09001 quality system standard certification. And obtained the qualification certificate for self-operated import and export. Over the years, starlight units have been widely used in all walks of life, and have won the network access qualification of the Ministry of Information Industry, the network access qualification of the Ministry of Radio and Television, the network access qualification of CNPC, the network access qualification of China Mobile, and the manufacturing qualification of marine units. In 2016, Starlight was awarded the Certificate of Qualified Supplier of China Nuclear Power Group. Starlight Generator has been cooperating with Shangchai Power for many years. In 2009, it became the OEM partner of Shangchai Power in China. Starlight generator VOLVO unit ranks the top three in the Asia-Pacific sales volume, and is the core OEM partner of Sweden Volvo in the Asia-Pacific region. If any question please feel free to visit our website https://www.dieselgeneratortech.com/ or send email to sales@dieselgeneratortech.com.