Aug. 15, 2022
The normal operation of a diesel generator set starts with a solid and reliable installation process. Generally speaking, diesel generator sets are usually installed outdoors or indoors. The installation of the two environments is not completely consistent, and the most appropriate installation steps and methods should be designed according to the actual situation of the installation site. Only in this way can the power and service life of the diesel generator be protected to the greatest extent. Today, Jiangsu Starlight Electricity Equipments Co.,Ltd. will tell you about some steps and methods required for these two installation environments.

Outdoor installation.
Outdoor installation begins with the pouring of reinforced concrete pads sufficient for the size, shape, weight and footprint of the new generator. This must be calculated carefully, as undersized pads do not have enough room to access and maintain diesel generators, may crack under the weight of the generator, and may cause compliance issues. Likewise, you need to build a sealed box around the fuel tank of sufficient strength and volume to contain any spilled fuel or lubricant.
Once the concrete has set and the containment is in place, the crane can unload the new diesel generator directly from the truck onto the mounting bolts inside the pads. Once leveled and secured, it can be connected to the tank and automatic transfer switch.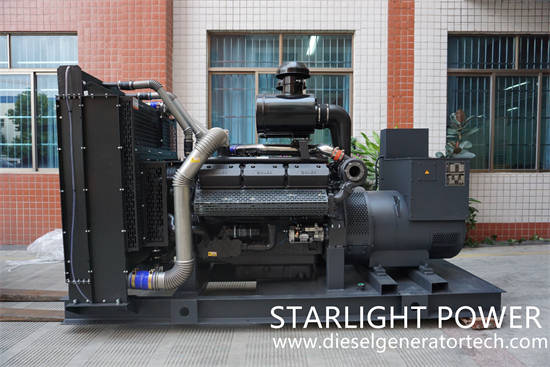 Indoor installation.
Indoor installation of a new diesel generator can be more complicated than outdoor installation. Depending on your facility, a gantry crane or skid mounted may be required to locate the generator. As with outdoor installations, the first step is to confirm that the foundation is strong enough to support the weight of the diesel generator. All local and national regulations regarding indoor installation of new diesel generators must also be considered.
Once positioned and attached to the structure, exhaust, cooling, fuel and electrical systems can be connected. This is usually a simple process, however, you may need to plan light to moderate retrofits for optimal installation within the structure.
All other considerations for installation.
Every installation requires proper security barriers to prevent unauthorized access to the diesel generator area. These may include railings, posts, walls, fences, etc. You'll also want to consider installing a sound suppression system so that the diesel generator doesn't run above a safe level. Finally, you need to make sure your facility is equipped with proper fire and security alarms that can detect everything from carbon dioxide levels to fuel leaks. It may also be necessary to install and maintain fire suppression equipment that complies with local building codes and any applicable regulations for your industry.
If you have any questions related to diesel generators, you can contact Jiangsu Starlight Electricity Equipments Co.,Ltd., we will provide you with new diesel generators and provide installation services. Our team will review your installation options and help you determine the best option for your needs and operations.
Jiangsu Starlight Power Generation Equipment Co., Ltd. was founded in 1974 and is one of the earliest manufacturers of generators and diesel generator sets in China. The company has a registered capital of 218.88 million yuan. The company covers an area of 86,000 square meters and a building area of 55,000 square meters. There are more than 660 employees, including 456 professional technicians and 106 senior technicians. It has 46 sales and service outlets nationwide. The main products are diesel engines, generator sets, and diesel generators, providing users with a one-stop service of design, supply, debugging and maintenance at any time. Starlight has always insisted on using first-class talents, building first-class enterprises, manufacturing first-class products, creating first-class services, and making every effort to build a first-class domestic enterprise. If any question please feel free to visit our website https://www.dieselgeneratortech.com/ or send email to sales@dieselgeneratortech.com.