Sep. 29, 2022
With the development of the economy, more and more people advocate a quiet and comfortable life on the basis of increasingly satisfying their material needs. So for the diesel generator industry, low noise is more and more valued by the majority of users. So, what is the working principle of noise reduction of Perkins diesel generator muffler? The following is the answer for you by Starlight Power Generation Equipment.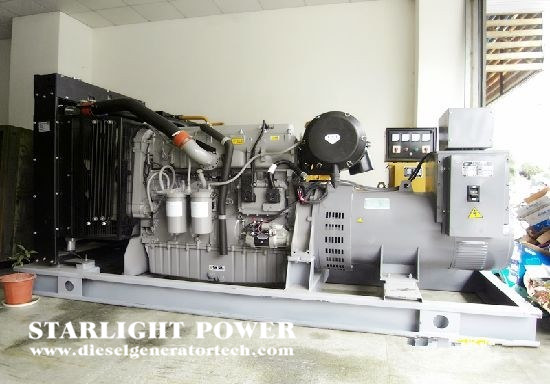 Perkins diesel generator muffler is developed according to the principle of anti-, spray-resistance composite muffler. It has the advantages of large muffling capacity, small size, light weight, muffler cylinder made of stainless steel, not easy to corrode and easy to install. The sound wave is attenuated by the expansion cavity and the perforated plate, so that the sound becomes heat energy and disappears. The principle is mostly multi-stage throttling and pressure reduction. In this process, the internal energy of the airflow is partially converted into sound energy of a certain frequency, and the noise is greatly weakened. A sound-suppressing inner liner can be moved vertically and horizontally between the inner liner shells to absorb the thermal expansion of the exhaust pipe. A double-layered sound-blocking cover is designed outside the depressurization body.
Muffler is a device that prevents sound from propagating and allows airflow to pass, and is an important measure to eliminate dynamic noise from steam emissions. To measure the quality of the exhaust muffler, the following three aspects are mainly considered:
1. The noise reduction capacity of the muffler can meet the requirements of the "Noise Hygiene Standard for Industrial Enterprises"
2. The adaptability of the muffler (that is, adapting to low and medium frequency spectrum broadband and high temperature and high pressure, etc.)
3. The structural performance of the muffler (reasonable size, low cost, long life, etc.)
The above content is the working principle of Perkins diesel generator muffler and the requirements for measuring its quality. I hope it can help industry users who have special needs for sound.
Jiangsu Starlight Power Generation Equipment Co., Ltd. was founded in 1974 and is one of the earliest manufacturers of generators and diesel generator sets in China. The company has a registered capital of 218.88 million yuan. The company covers an area of 86,000 square meters and a building area of 55,000 square meters. There are more than 660 employees, including 456 professional technicians and 106 senior technicians. It has 46 sales and service outlets nationwide. The main products are diesel engines, generator sets, and diesel generators, providing users with a one-stop service of design, supply, debugging and maintenance at any time. Starlight has always insisted on using first-class talents, building first-class enterprises, manufacturing first-class products, creating first-class services, and making every effort to build a first-class domestic enterprise. If any question please feel free to visit our website https://www.dieselgeneratortech.com/ or send email to sales@dieselgeneratortech.com.